›
English
›
After only two days as a...
After only two days as a member, Kaesang immediately became chairman of PSI
The decision to appoint President Jokowi's youngest son, Kaesang Pangarep, as general chairman is one of the strategies to pass PSI into parliament. The function of political party cadre formation is being questioned.
The following article was translated using both Microsoft Azure Open AI and Google Translation AI. The original article can be found in Baru Dua Hari Anggota, Kaesang Langsung Jadi Ketum PSI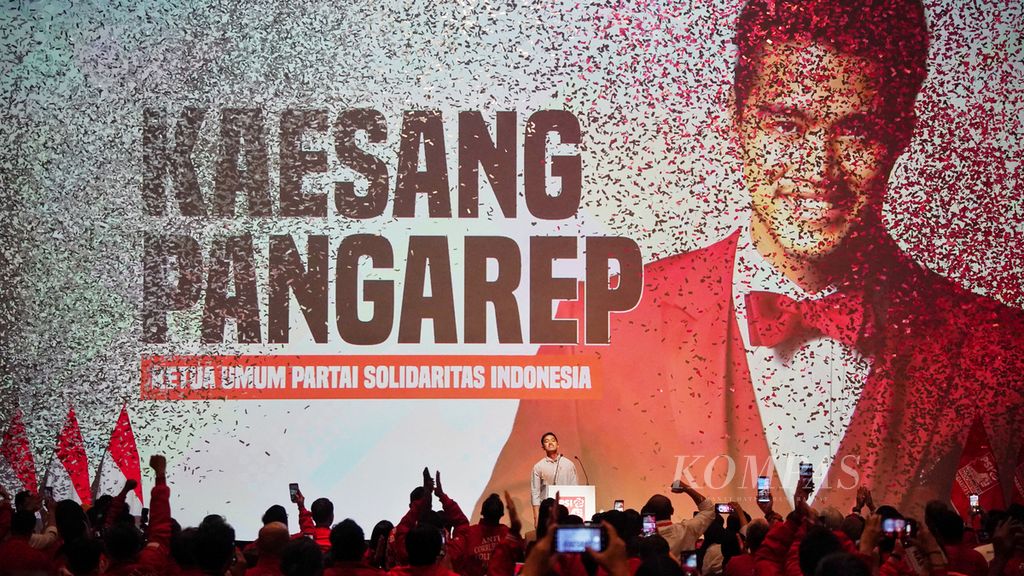 The atmosphere after the General Chair of the Indonesian Solidarity Party (PSI) Kaesang Pangarep delivered his first political speech at the National Land Coffee (Kopdarnas) Declaration PSI Politics at the Djakarta Theater Ballroom, Jakarta, Monday (25/9/2023).
JAKARTA, KOMPAS — The Indonesian Solidarity Party or PSI appointed Kaesang Pangarep as general chairman after President Joko Widodo's son officially became a cadre of the party two days earlier. The change in leadership in the middle of the 2024 Election stage is targeted to bring PSI past the parliamentary threshold. This step is considered to add to the record of failure in the cadre formation of political parties because they took shortcuts in recruiting public figures to optimize vote acquisition.
Kaesang Pangarep has been appointed as the Chairperson of the Solidarity Party of Indonesia (PSI) for 2023-2028 during the National Coffee Meetup (Kopdarnas) of PSI's Political Declaration, held at the ballroom of Djakarta Theater in Jakarta on Monday (25/9/2023) evening.
In that agenda, the Board of Trustees of PSI also appointed former Chairman of PSI Giring Ganesha and Acting Secretary General of PSI Isyana Bagoes Oka as members of the board of trustees. In addition, the Secretary of the Board of Trustees of PSI who also serves as Deputy Minister of Agrarian Affairs and Spatial Planning, Raja Juli Antoni, was appointed as the Secretary General of PSI.
A number of elites, including Vice Chair of the PSI Board of Trustees Grace Natalie, Raja Juli Antoni, Giring Ganesha, and Isyana Bagoes Oka, were present at the event. Likewise, PSI officials and cadres from all over Indonesia were also in attendance. Additionally, several volunteer groups supporting President Joko Widodo in the 2014 and 2019 elections also attended the event.
Also read: Kaesang will occupy a strategic position at PSI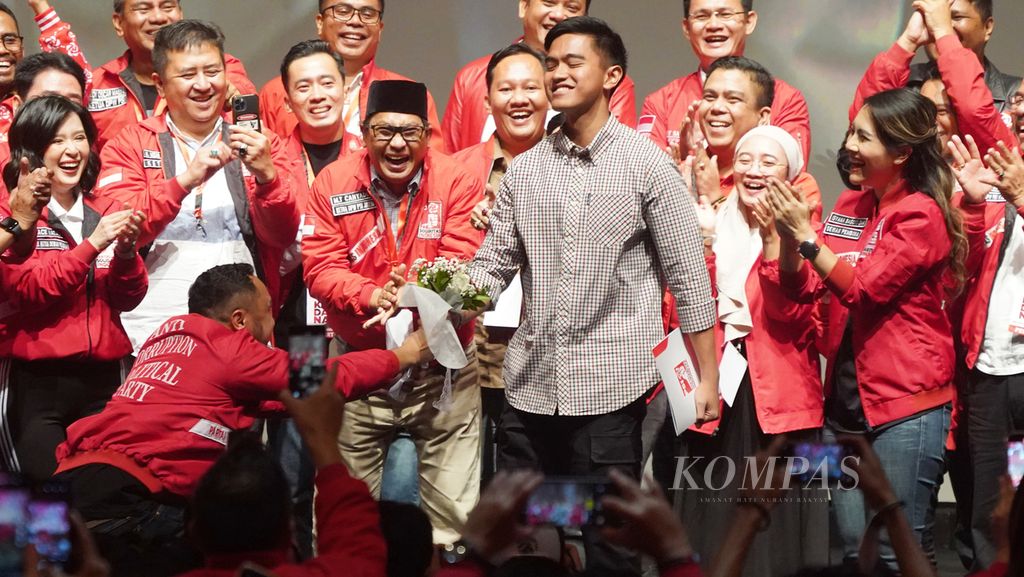 The Chairman of the Indonesian Solidarity Party (PSI), Kaesang Pangarep (right), received a bouquet of roses as a symbol of the handover of leadership as the Chairman of PSI from the previous chairman, Giring Ganesha (left), during the National Coffee Gathering (Kopdarnas) Political Declaration of PSI at the Djakarta Theater Ballroom, Jakarta on Monday (25/9/2023).
Kaesang was present accompanied by his wife, Erina Gudono. Unlike the PSI cadres who wore the typical red PSI jackets, Kaesang wore a checked shirt, which was Jokowi's identity in the 2014 Presidential Election. Throughout the event, several videos were played which not only showed Kaesang's face but also recordings of Jokowi's speeches at the PSI event, as well as various political activities of Jokowi.
In his first speech as the general chairman, Kaesang stated that he was inspired to enter the political arena by Jokowi. His father's track record convinced him that power can bring goodness if held by the right person. "Honestly, I entered politics inspired by my own father. I want to follow in his footsteps, to engage in politics for the good," he said.
Although, he chose to join a different political party than his father, the Indonesian Democratic Party of Struggle (PDI-P). He realizes that it is not an easy choice, and many people are questioning his decision.
Kaesang asserts that his decision to engage in practical politics falls on PSI for observing the party's consistency in fighting for the young generation's political welfare. PSI's position as a non-parliamentary party also propels him to assist the party to pass the parliamentary threshold in the 2024 General Election. To achieve this, he utilizes a fresh approach to politics, including avoiding dividing society through slander and hoaxes.
Also read: Joining PSI, Kaesang breaks the "tradition" of President Jokowi's family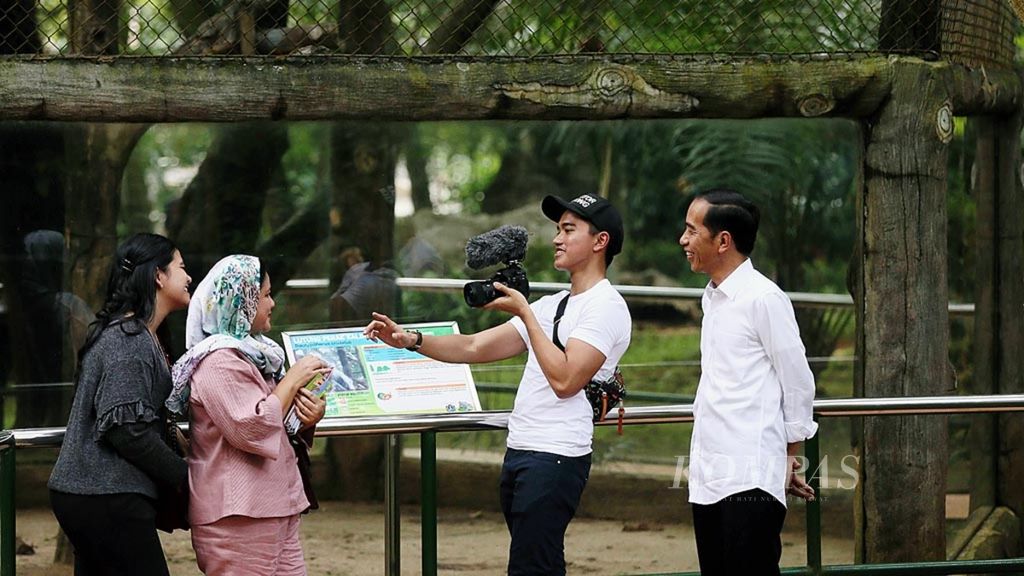 President Joko Widodo (right) is observing his son, Kaesang Pangarep (second from the right), who is recording Ms. Iriana (second from the left) and their daughter, Kahiang Ayu, in between viewing one of the collections at the Primata Center, Taman Margasatwa Ragunan, South Jakarta, on Thursday (29/6/2017). Note: No forbidden words were present in the original Indonesian text.
"I want to fight alongside my friends here so that PSI in 2024 becomes a major political party and will be present in the parliament," he said.
Regarding support for the 2024 presidential election, according to Kaesang, PSI has not yet made a decision. The political party, which previously declared support for former Governor of Central Java Ganjar Pranowo through a people's discussion mechanism, will once again absorb grassroots aspirations to determine its official support direction.
Two days
Kaesang has been appointed as the General Chairman of the Indonesian Solidarity Party (PSI), just two days after joining the party as a member. He received his membership card in Surakarta City, Central Java, last Saturday. This process took place five months before the 2024 General Election.
Grace Natalie stated that although the process of appointing her as the party leader was swift, communication between both parties had occurred over the past few months. Her team had hoped that Kaesang would join them earlier, but there were various unforeseen circumstances that were beyond their control. The change in leadership was made in response to current dynamics and as a strategy to push the PSI into parliament.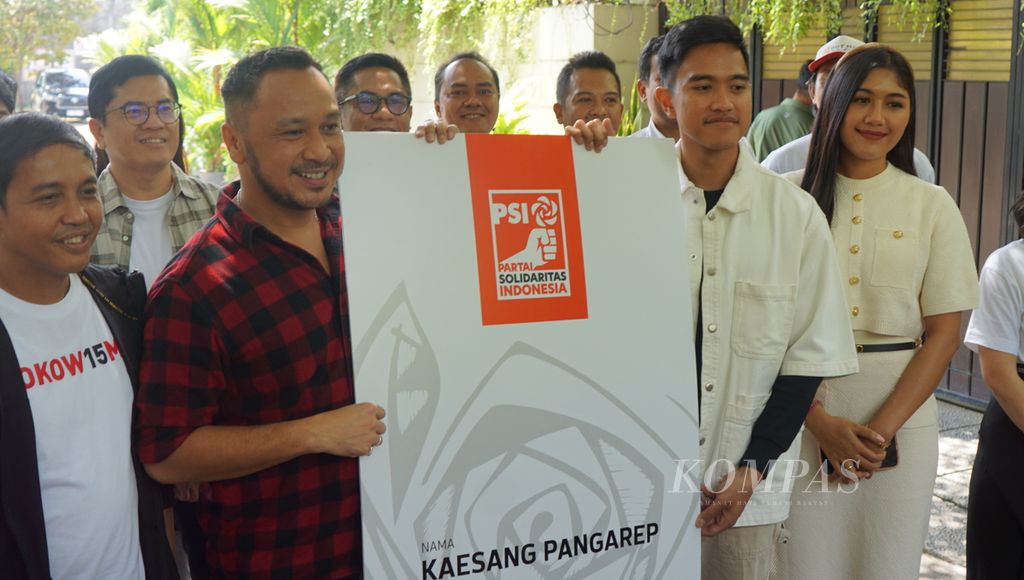 Although Kaesang has no practical political experience yet, added Grace, that is not a problem. This nine-year-old party is filled with many beginners. Even so, she claims that her party has carried out a good cadre development and leadership regeneration, as it already has three Chairpersons.
Raja Juli Antoni added that PSI has a cadre system, but is open to recruiting outside figures to occupy strategic positions. The appointment of Kaesang as chairman in a short time is not a problem, as it is said to have gone through a democratic process. The election of Kaesang began with the aspirations of regional officials, which was followed by a plenary meeting of Kopdarnas on Monday afternoon.
"During the Kopdarnas meeting this afternoon, we went through a highly democratic forum," he said.
Regeneration failure
Recruiting public figures is not something new for political parties ahead of the 2024 elections. Before PSI, in early 2023, the Golkar Party also recruited former Governor of West Java, Ridwan Kamil, and placed him as Vice Chairman. Similarly, the Prosperous Justice Party (PKS) recruited former Governor of Central Java, Bibit Waluyo. Previously, the Indonesian Democratic Party of Struggle (PDI-P) also recruited former Head of the National Disaster Management Agency (BNPB), Ganip Warsito, and tennis legend, Yayuk Basuki.
Also read: Kaesang Enters PSI, PDI-P Submits Assessment to Community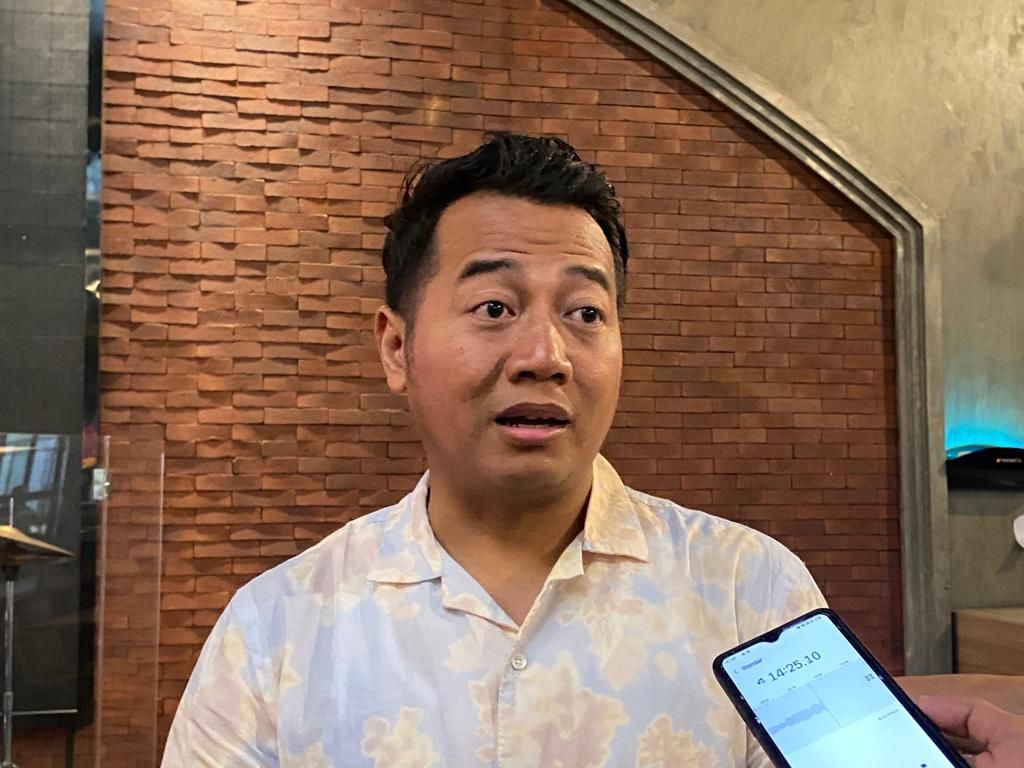 Executive Director of the Indonesian Political Parameter, Adi Prayitno, said that this phenomenon indicates the failure of party cadre recruitment. So far, the majority of party cadres have not been sought after by the public. Therefore, the central figures of political parties generally do not change over time.
In this context, added Adi, political parties are looking for shortcuts to optimize vote acquisition in the elections. This is also what PSI did with Kaesang joining. Moreover, this political party did not pass the parliamentary threshold when participating in the 2019 elections. "Clearly this is a shortcut to get to Senayan. "PSI is looking for a popular figure who has a flashy political back-up like Kaesang, who is actually the President's son," said Adi.
Also read: Ridwan Kamil and Public Figures Who Join Political Parties
He sees that Kaesang's recruitment is crucial for PSI. This is because the party has no political selling power other than its efforts to associate itself with Jokowi. Kaesang's presence in a strategic position in PSI strengthens these steps.
According to Adi, this is a homework for political parties. In the future, there is a need for improvement in cadreship so that political parties can produce ideological cadres. "Good recruitment and cadreship, that's the key," he said.
Editor:
ANTONIUS PONCO ANGGORO