Tok Pisin
After PNG\'s independence, the use of Tok Pisin expands nearly throughout the country. Urbanization makes people from the regions migrate to big cities such as Port Moresby and Lae.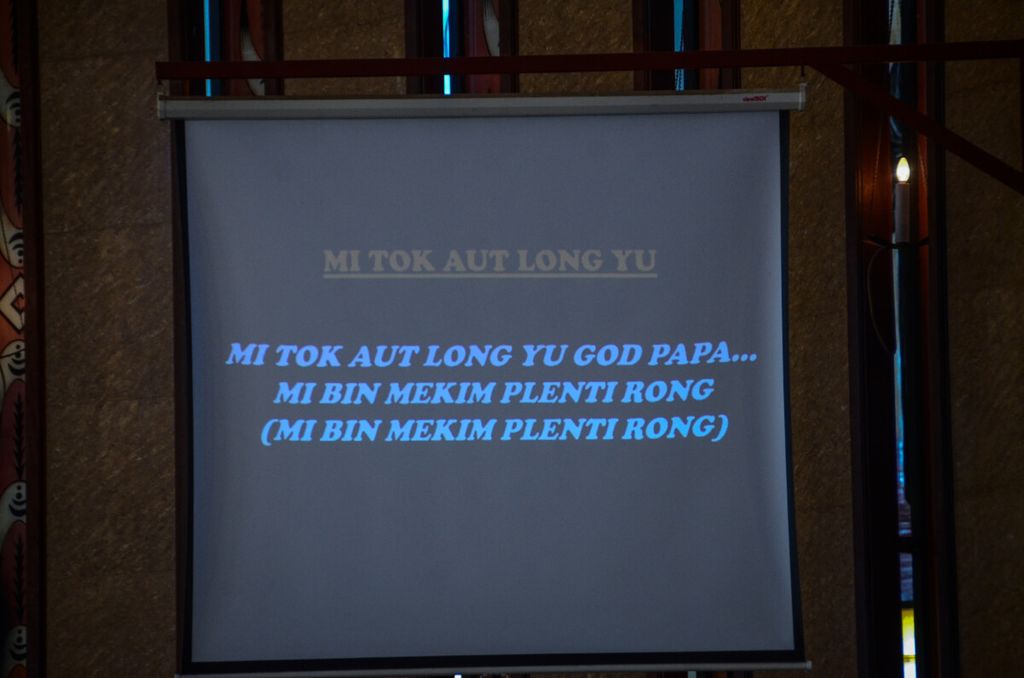 Mi tok aut long yu, God Papa…
Mi bin mekim plenti rong.
At first glance the text of this hymn at a church in Port Moresby is like a foreign language. However, try to pronounce the words while imagining the English words. It is not difficult for us to understand what it means: "I call on you, Lord Father…. I\'ve done a lot of wrong."
Tok Pisin is one of the national languages of Papua New Guinea (PNG). The name Tok Pisin comes from English, Talk Pidgin or "Pidgin language". Pidgin is not really the name of a specific language. Pidgin is a simple form of a language, which has also become a means of communication among people who speak different languages.
Tok Pisin is a English-based pidgin. Some call it market English and some say it is broken English.
***
Melanesians are known for their diversity of languages. There are about 840 languages in PNG alone. This extreme diversity makes it impossible for Melanesians to communicate using their respective regional languages.
In the late 19th century, Melanesians from across the Pacific Islands were transported by Europeans to be employed on copra and sugar cane plantations in Queensland (Australia) and Samoa. Because the native languages are too diverse, they need a unifying language to communicate. And, that is English.
Also read:
> Pride of the Maritime Nation
Unfortunately, English is too complex. They can only use simple English with limited words and without standard grammar rules. The result is like this: Yu go we? Where do you go? Mi laikim yu tru. I love you.
The workers then returned to their homelands, bringing with them knowledge about this English pidgin. This language then develops in the regions resulting in many variants in Melanesian countries. There is Tok Pisin in PNG, Pijin in Solomon Islands, and Bislama in Vanuatu.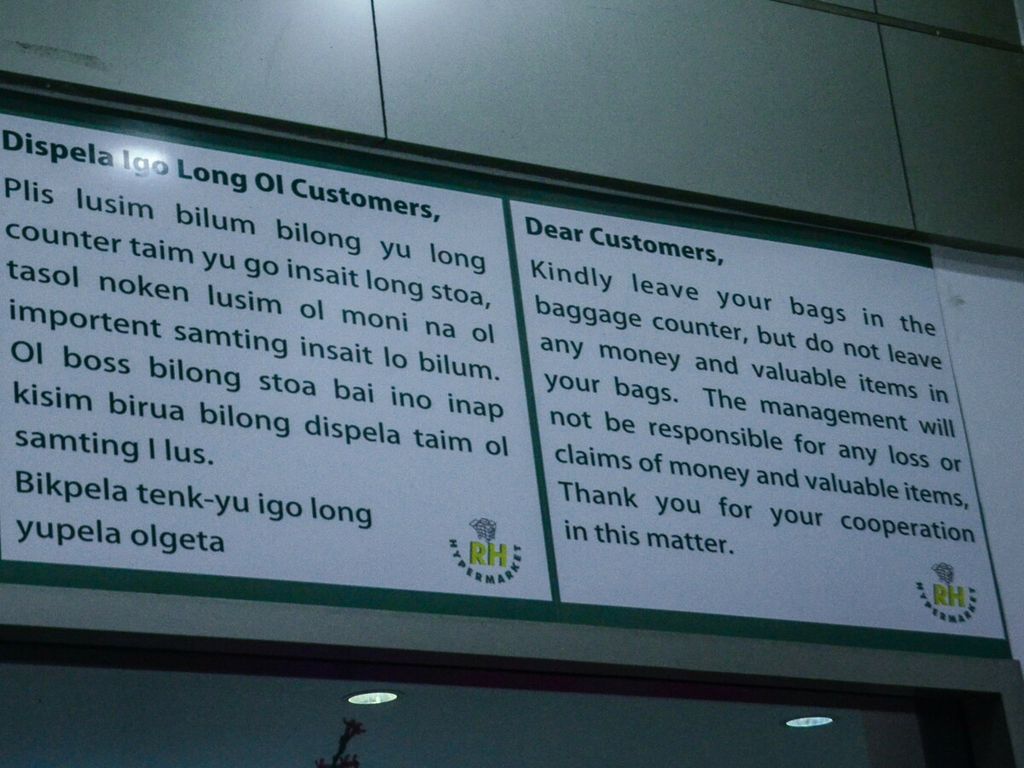 The limited vocabulary makes Tok Pisin speakers creative in producing terms. The hair in Tok Pisin is called gras bilong het (grass on the head), abbreviated as gras, while "sampo" is called sop bilong gras bilong het (soap for the grass on the head). The hospital is haus sik and the animal hospital is called haus dok sik.
The formation of the term is also very reasonable according to local logic. For example, anger is called belhat (hot belly) and pregnant is gat bel (get belly). Talkative people are called man bilong toktok (people who talk).
To native English speakers, Tok Pisin may sound funny and childish, like baby talk. A classic example frequently quoted in linguistics books, the piano is said in Tok Pisin to be called bikpela bokis sapos yu paitim em-i krai (a big box, that if you hit it, would cry). I myself have never heard PNG people use such a long-winded term to refer to piano, but it is said that there used to be an authentic Tok Pisin term: bokis bilong krai (crying box).
Also read:
About 80 percent of Tok Pisin\'s vocabulary comes from English. However, Tok Pisin also absorbs a lot of local language words, especially the Bismarck Islands region in northern New Guinea. Also the word German, because the northern part of this country was once a German colony. In addition, there are also many Malay loan words, such as animal (insect), mambu (bamboo), and milk (drink or breast).
Speakers of Tok Pisin already consider it a natural language and no longer question the origin of the words used. I once wondered why PNG people used to call boys as mangi or manki. This word actually comes from monkey, possibly used by white people to refer to their black workers. Monkeys are not native to Papua, so I suspect the people at that time thought mangi meant human children.
Another term for children is pikinini. This cute-sounding word comes from the Portuguese, pequenino (very tiny), but in North America then it has a negative connotation to refer to the children of black people. In PNG itself, pikinini is a neutral word, without any connotations.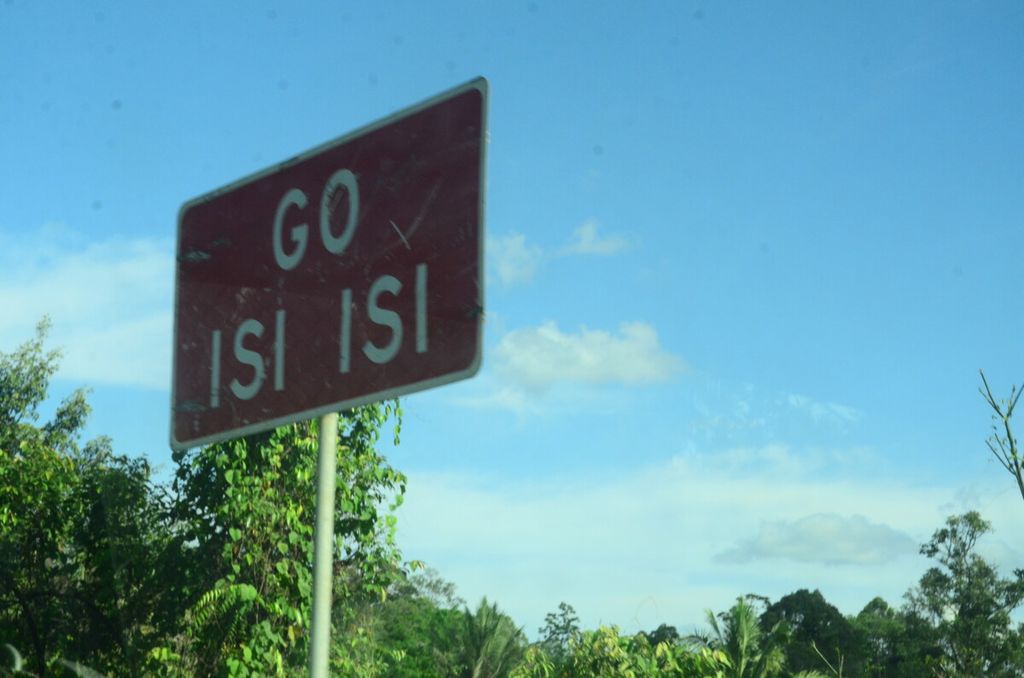 ***
Now, Tok Pisin has developed into a complex and full language.
After PNG\'s independence, the use of Tok Pisin expands nearly throughout the country. Urbanization makes people from the regions migrate to big cities such as Port Moresby and Lae. The marriage among people of different languages makes them need language to bridge communication, and that is Tok Pisin. The children resulting from this mixed marriage then use Tok Pisin as their everyday language.
PNG\'s official language is English. However, public service messages, television programs, church songs, and debates in parliament mostly use Tok Pisin. This language has slowly strengthened its position as the proud identity of the country.
This article was translated by Hyginus Hardoyo.