›
English
›
Hottest Week on Earth, Heat...
Hottest Week on Earth, Heat Waves, Widespread Floods
Earth's temperature reaches record hottest week. The record-breaking temperatures on land and in the ocean have caused not only heat waves, but also more evaporation and more extreme storms and rain.
The following article was translated using both Microsoft Azure Open AI and Google Translation AI.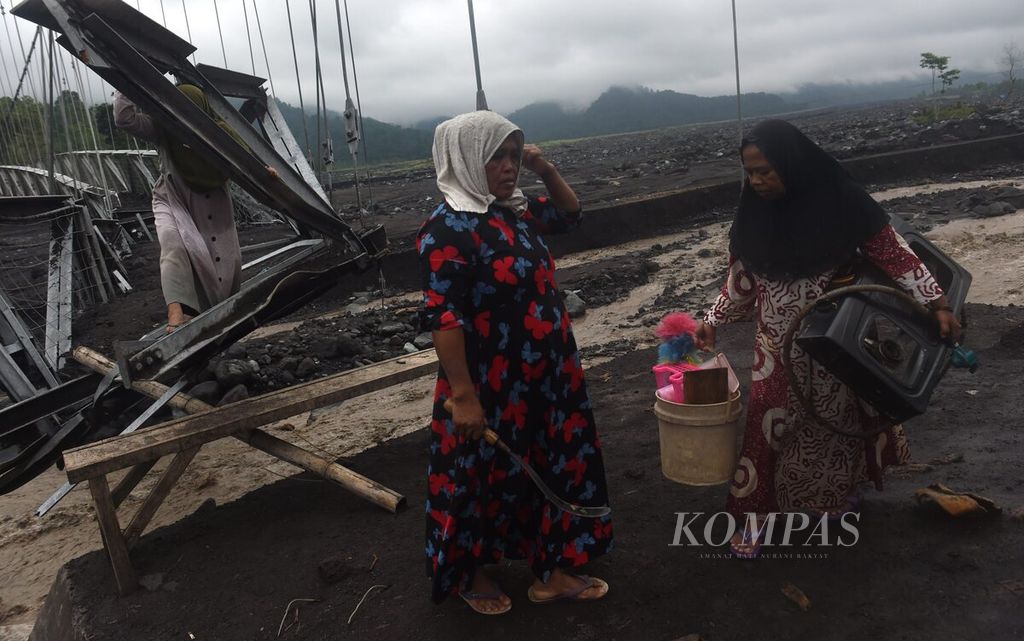 El Nino has just arrived, but the Earth's temperature has reached a record high this week and the extent of Antarctic sea ice has reached its lowest point. The record-breaking temperatures on land and sea not only cause heat waves, but also more evaporation and extreme storms and rainfall, causing floods everywhere.
The signs that the earth is losing its capacity to sustain life are becoming more and more apparent. The widespread changes that are happening in the earth's system as a result of human-caused climate change are becoming increasingly evident with the continued rise in temperature of both land and sea.
"The extraordinary heat in June and early July occurred at the beginning of the El Nino development, which is expected to further trigger heat both on land and in the ocean and cause more extreme temperatures and heat waves," said Christopher Hewitt, Director of Climate Services for the World Meteorological Organization (WMO), in a written statement on Monday (10/7/2023)."
Currently, the Earth's temperature has entered a zone that has never been mapped before and it is possible that we will experience more extreme conditions as the El Nino develops further and this impact will continue until 2024. "This is alarming news for this planet," he said.
Citing data analysis from Japan's JRA-3Q, WMO stated that the global average temperature on July 7 has reached 17.24 degrees Celsius. This is 0.3 degrees Celsius above the previous record of 16.94 degrees Celsius on August 16, 2016. As a note, the world experienced a strong El Nino in 2015-2016.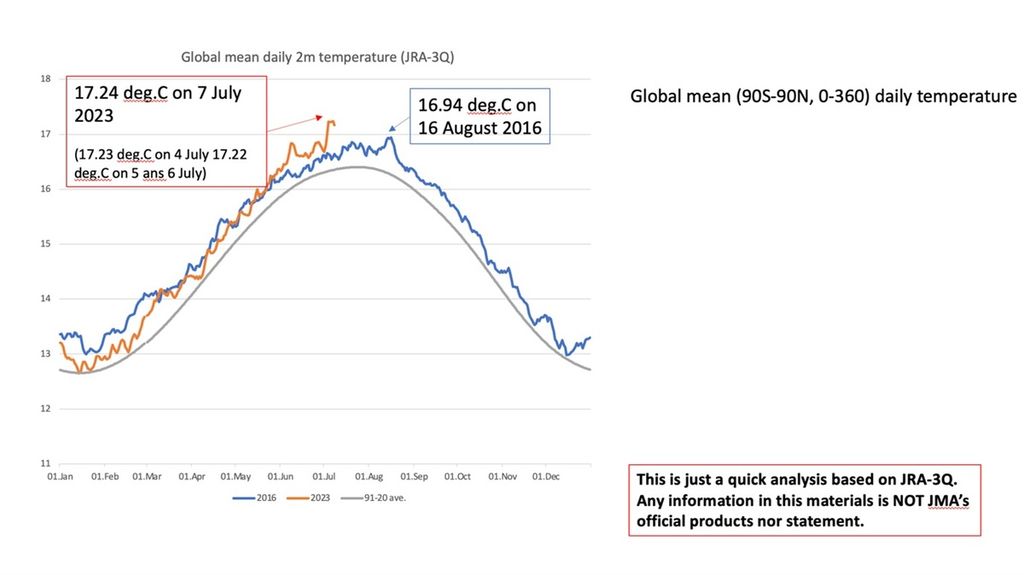 The data from Japan is consistent with the European climate monitoring service dataset, Copernicus ECMWF ERA5. WMO uses a combination of reanalysis datasets with global observations from ground stations and ships for its State of the Climate report and to assess global temperatures.
"According to various data sets from our partners in different parts of the world, the first week of July has set a new record in terms of daily temperatures," said Omar Baddour, Head of Climate Monitoring at WMO. "WMO and the broader scientific community are closely observing the dramatic changes in various components of the climate system, including sea surface temperatures," he added."
Previously, a report from Copernicus showed that temperatures in June 2023 were more than 0.5 degrees Celsius above the average temperature of 1991-2020, breaking the previous record in June 2019. The record temperature in June was experienced throughout northwest Europe. Some parts of Canada, the United States, Mexico, Asia, and eastern Australia were significantly warmer than usual.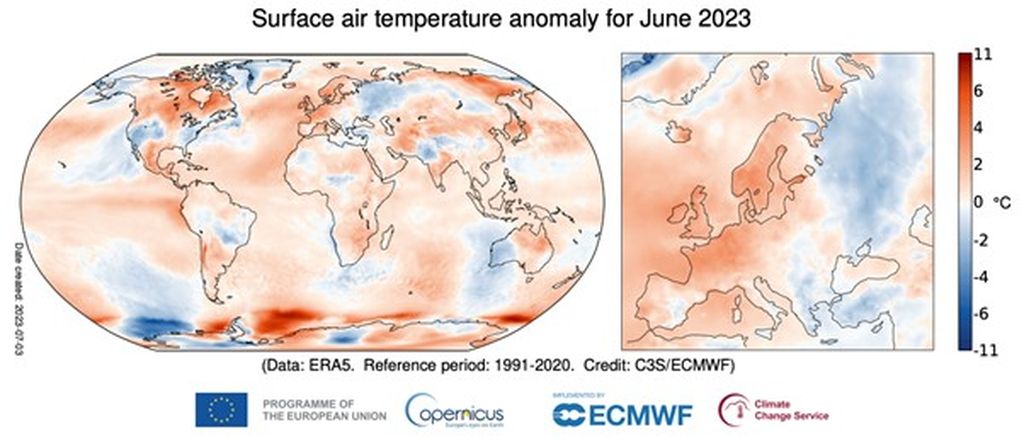 Deadly heat
The rising temperature of the earth has been felt in various places. The temperature, which has broken records both on land and in the ocean, has the potential to impact ecosystems and the environment, according to the WMO evaluation.
Several countries have recorded a series of heat records since mid-year. Severe drought has occurred in Spain and a massive heat wave has hit China and the US. Texas experienced the hottest temperature due to a prolonged "heat dome" where warm air is trapped in the atmosphere like a convection oven.
Last week, the Ministry of Natural Resources of Canada also released the number of forest fires in the country, which reached over 670 locations, the most ever recorded. Smoke from the fires this season has also polluted the air in Canada and neighboring US, affecting more than 100 million people.
In southern Iraq, the worst heatwave in the last 40 years is taking place. The Food and Agriculture Organization of the United Nations (FAO) warned in a release on Monday (10/7/2023) of the "devastating impact" on the ecosystem as well as farmers and fisheries in Iraq.
Currently the earth's temperature has entered into the uncharted zone and it is likely that we will experience more extremes when El Nino develops further and this impact will continue until 2024.
The Secretary-General of the United Nations, Antonio Guterres, as reported by AFP, stated, "The situation we are witnessing now is a demonstration that climate change is out of control."
Other than with plants, melting glaciers and increasing forest fire risk, higher than normal temperatures also cause health problems ranging from heat stroke and dehydration to cardiovascular stress.
New research in Nature Medicine in June 2023 found that more than 61,000 people died from heat stroke during Europe's record-breaking summer last year. The majority of deaths are people over 80 years old and 63 percent of those who die from fever are women.
Also read: Climate Change Proven to Worse Global Floods and Drought
Widespread flooding
Not only triggering heat waves and drought, the increase in global temperature apparently also triggers extreme rainfall that causes floods everywhere. As reported by AFP on Monday (10/7/2023), schools in New Delhi had to be closed on Monday after heavy rains poured on the capital city of India. Landslides and flash floods killed at least 22 people, mostly in the northern state of Himachal Pradesh.
In Japan, heavy rain has been pouring in the southwest, causing floods and landslides that have killed two people and left at least six others missing on Monday. Local TV showed damaged houses in Fukuoka prefecture and muddy water from the Yamakuni River.
In Ulster County, in Hudson Valley New York, and in Vermont, the residents experienced the worst flooding since Hurricane Irene in 2011, which is called the worst weather event in the history of the region.
In China, it was reported that 15 people died and four others went missing after heavy rain hit the metropolitan city of Chongqing and most of the southwest region of China. More than 10,000 people were also evacuated in the past few days from homes in central Hunan Province, where dozens of buildings collapsed.
Meanwhile, in Indonesia, floods and landslides have also hit several areas, although it should have entered the dry season. At least three people have died and more than 1,000 people have been displaced due to flooding, lahar, and landslides that occurred at the foot of Mount Semeru, Lumajang Regency, East Java.
Meanwhile, in Bali, at least one person died as a result of a landslide amid extreme weather hitting the island. The Bali Province Regional Disaster Management Agency (BPBD) recorded 29 landslides and dozens of flood points in a number of areas due to extreme weather since Friday (7/7/2023).
Acting Head of the Public Meteorology Center of BMKG Andri Ramdhani stated that since July 4, 2023, BMKG has released information on the potential for rain that may occur within a week until July 10, 2023. The release of this information is related to the significant atmospheric dynamics that can increase the potential for rain during the early period of this year's dry season, namely the active phenomenon of Kelvin and equatorial Rossby waves in the Indonesian region.
According to Andri, based on weather analysis data in the past three days, light to moderate category rains have been observed in some areas of Indonesia. Even some areas experience extreme category rains, particularly in parts of Bali. Meanwhile, heavy to very heavy category rains occurred in parts of Bengkulu, Central Java, East Java, Bali, West Kalimantan, North Sulawesi, Maluku, West Papua, and Papua.
Although the damaging floods in India, Japan, China, the US, and Indonesia are influenced by different local weather patterns and may seem like distant events, atmospheric scientists say they have a commonality: extreme rainfall is occurring due to a warmer atmosphere.
A warmer atmosphere holds more moisture, resulting in storms dumping more rainfall that can have fatal consequences. Pollutants, particularly carbon dioxide and methane, heat up the atmosphere. Instead of allowing heat to radiate from the Earth into space, they trap it.
Although climate change is not a direct cause of the storm that unleashes rainfall, this storm is formed in an atmosphere that has become warmer and wetter.
Hot air expands and cold air contracts. This is similar to a balloon - when heated, its volume will become larger, allowing it to hold more water vapor. For every 1 degree Celsius, equivalent to 1.8 degrees Fahrenheit, the atmosphere warms up and stores about 7 percent more moisture. Meanwhile, according to NASA data, the global average temperature has increased by at least 1.2 degrees Celsius since 1880.
"When thunderstorms develop, water vapor condenses into raindrops and falls back to the surface. So when these storms form in warmer environments that have more moisture in them, rainfall increases," explained Brian Soden, a professor of atmospheric science at the University of Miami."
Also read: Climate Crisis Exacerbates Flood and Landslide Disasters
The role of warming the oceans
Ocean warming is also a primary source of this more extreme weather. The ocean absorbs most of the heat caused by greenhouse gases that warm the planet, causing dangerous heat waves for aquatic life, changing weather patterns, and disrupting important systems that regulate the planet.
Based on WMO data, in June, global sea surface temperatures have reached unprecedented levels, while Antarctic sea ice reached its lowest level since satellite observations began, at 17 percent below average, breaking the previous June record by a significant margin.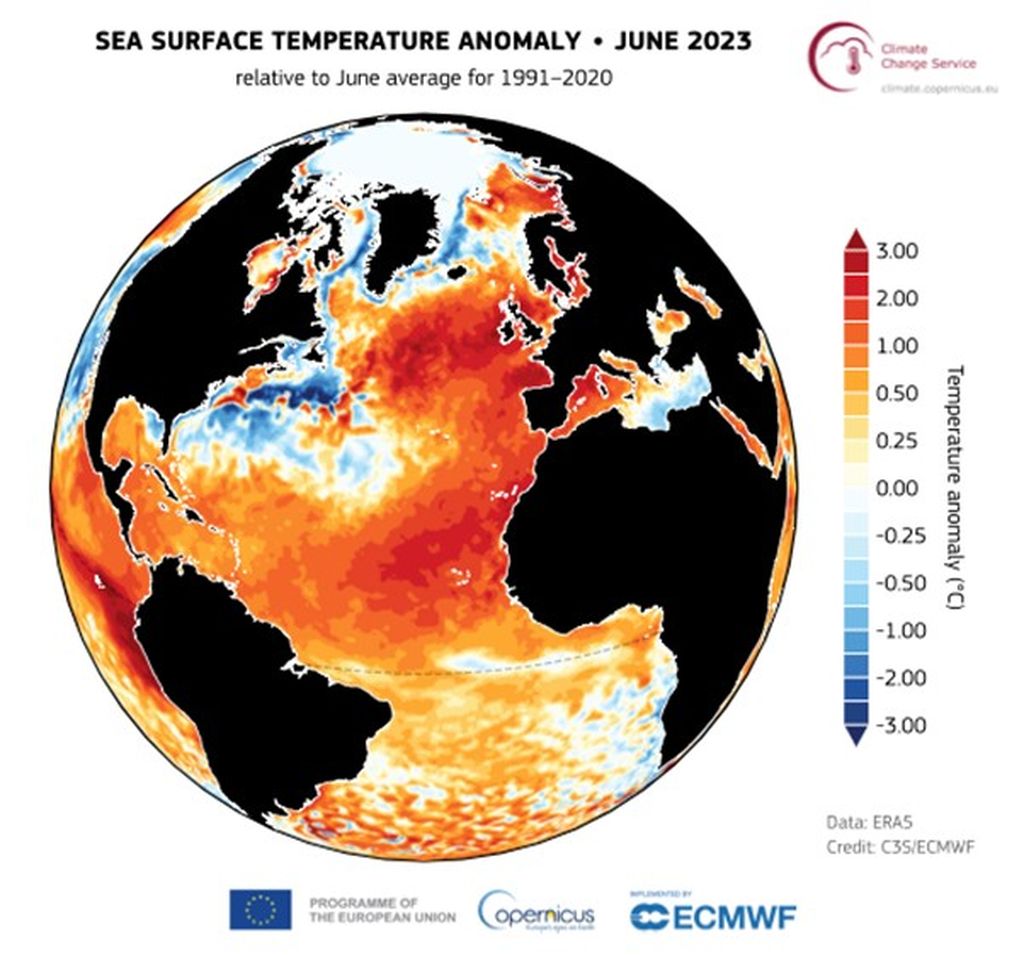 Meanwhile, sea surface temperatures usually recede relatively quickly from their annual peaks, but this year they remain high, with scientists warning that this underscores the overlooked but serious impact of climate change.
The global sea surface temperature has reached a record high throughout the year in both May and June. In addition to affecting the distribution of fisheries and general ocean circulation, this also has a direct effect on the climate.
Not only the surface temperature, but the entire ocean is becoming warmer and absorbing energy that will persist for hundreds of years. Alarm bells are ringing loudly due to unprecedented sea surface temperatures in the North Atlantic.
"If the ocean warms significantly, it will directly impact the atmosphere, sea ice, and ice around the world," said Michael Sparrow, Head of the World Climate Research Program at WMO.
The North Atlantic is one of the main drivers of extreme weather. "With the warming of the Atlantic, there is a high likelihood of more storms and tropical cyclones. The sea surface temperature of the North Atlantic is associated with heavy rainfall or drought in West Africa," said Baddour.
"As the climate becomes warmer, heavy rain and storms become more common, just as droughts worsen and heatwaves occur more frequently."
Editor:
ALOYSIUS BUDI KURNIAWAN