Foreigners Free to Work Illegally in Bali
Bali is not only a tourist destination for foreign tourists from many countries. An investigation conducted by Kompas daily found a number of foreign nationals were free to work illegally in the resort island.
BADUNG, KOMPAS — Kompas daily's investigation team has found a number of foreign nationals or foreigners working illegally in Bali. They work freely in tourist areas even though they do not have the proper immigration documents.
In general, foreigners who work illegally in Bali find clients through social media. Their jobs vary, from photographer or model to opening a motor vehicle rental business.
Through a search on the Telegram messaging application, Kompas found a Russian-language motorbike rental business channel. When asked using English, the channel admin responded his motorbike unit was not available. However, when using Russian, he immediately offered a number of vehicles that could be rented.
The motorcycle rental business is located in Uluwatu, Badung regency. The owners are two Russian citizens who run the business with an investment of Rp 10.01 billion (US$670). Their business is legally incorporated under the name PT FBI and has a virtual office on Jl Sunset Road, Badung.
Also read:
> A Bit of Moscow in the Island of the Gods
> Bali Back to Dancing for Relaxation
Data at the Directorate General of General Legal Administration of the Law and Human Rights Ministry states, PT FBI is legally registered as a foreign investment company (PMA), which is engaged in a number of fields, namely wholesale trading of machinery, trading of various kinds of goods, real estate, advertising, leasing cars, buses, trucks and the like, as well as rental of nonmotorized land transportation vehicles with four or more wheels.
When renting a motorbike at PT FBI, the admin of the rental business said the motorbike would be delivered to the consumer and could not be picked up directly because they did not have an office. When we rented a motorbike, a Russian citizen with the initials MP would deliver the motorcycle. "This is a new motorcycle. It's only been a month. We also have Ducati and Harley Davidson," MP said.
After tracing immigration documents, it turned out MP only had a visa on arrival (VoA) with a validity period of 30 days that could be extended for 30 days. Holders of this type of visa are prohibited from engaging in any form of business activities in Indonesia.
Where did you get the information? You just need to clarify it later, okay?
Apart from MP, one Russian citizen who is listed as a shareholder of PT FBI holds a VoA visa but does not have an investment limited stay permit (KITAS) card. However, according to the Deputy for Development of the Investment Climate of the Investment Ministry /Investment Coordinating Board Yuliot, foreigners who had investment of more than Rp 10 billion (US$668.66) could use a visit visa. "They can make a company with a visit visa with a minimum investment of Rp 10 billion," said Yuliot.
When confirmed, the director of PT FBI, Geminiantoro Raharjo, denied the Russian citizen who delivered motorbikes to consumers was his employee. "No. We know the rules. I also have a company, not only in Bali, really," he said.
According to Geminiantoro, PT FBI, which is owned by two Russian citizens, is only engaged in a rental business. "This is how the name is recorded. That's okay. But, right, I'm a local person," he said. As soon as it was confirmed he did not own shares in PT FBI, Geminiantoro replied, "Where did you get the information? You just need to clarify it later, okay?"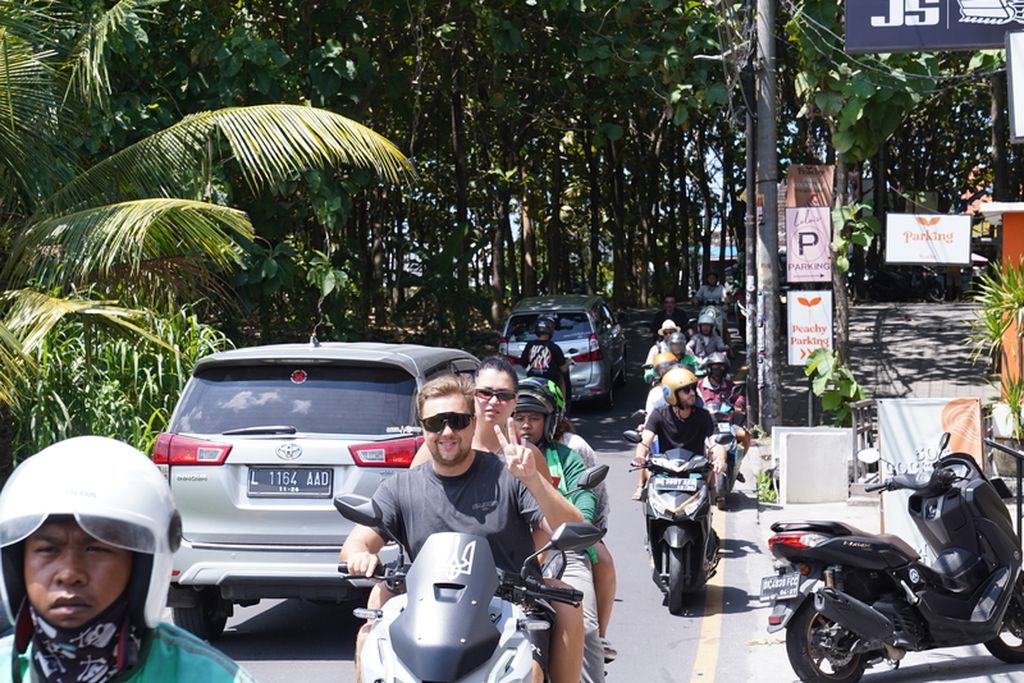 Forbidden
Not only Russian citizens violate their visa terms; Kompas also found a French citizen, Gabriel (38), who is a photographer and lives in the South Kuta area. He does not have a work permit but has a temporary stay permit card (KITAS) for an investor, which is valid until December 2024.
Gabriel is looking for potential clients via Facebook, through a group of photographer services in the Bali area. Gabriel does not publicly respond to questions of potential clients that need a photographer. Gabriel sent a private message to the prospective customer's account.
That's why I always only use private connections and contacts because I'm not sure enough.
Gabriel acknowledges he is not an Indonesian citizen, but he already has a KITAS. He also sent his photos as a portfolio. Gabriel's rate is between Rp 3 million and Rp 10 million per hour, depending on the client's request.
When asked whether investors' KITAS permits can be used by foreigners to become photographers in Bali, Gabriel said he was not sure. Therefore, he does not promote his services openly; he only "picks up the ball" on social media if someone needs it. "That's why I always only use private connections and contacts because I'm not sure enough," said Gabriel, who also refuses a request to have a photo shoot in a public space.
Additional income
In addition to photographers, in one of the Facebook groups there are also foreigners who are looking for work as models. They usually offer their services in the comments column from uploaded accounts that are looking for models.
Monica (23), an Irish citizen, is one of them. She charges Rp 1.5 million-Rp. 2 million for a one-hour photo shoot. "I will wear the clothes to meet the needs of your brand," she said via messenger on Facebook.
Also read:
> Change Comes to Bali Tourism
> Wow... How Fun It Is to Return to Bali
When doing a photo shoot in a private villa, Monica styled her dress like a professional model. She also showed her visa and passport after the photo shoot was over. "I came here on a one-time visit visa (B211A visa) and I hope there are no problems when I do this job," she said.
Based on her B211A visa documents, Monica can only stay in Indonesia until June 17. Her visa is valid for 60 days. "I spend a lot of money to vacation here. Therefore, I do this work to earn extra income," said Monica.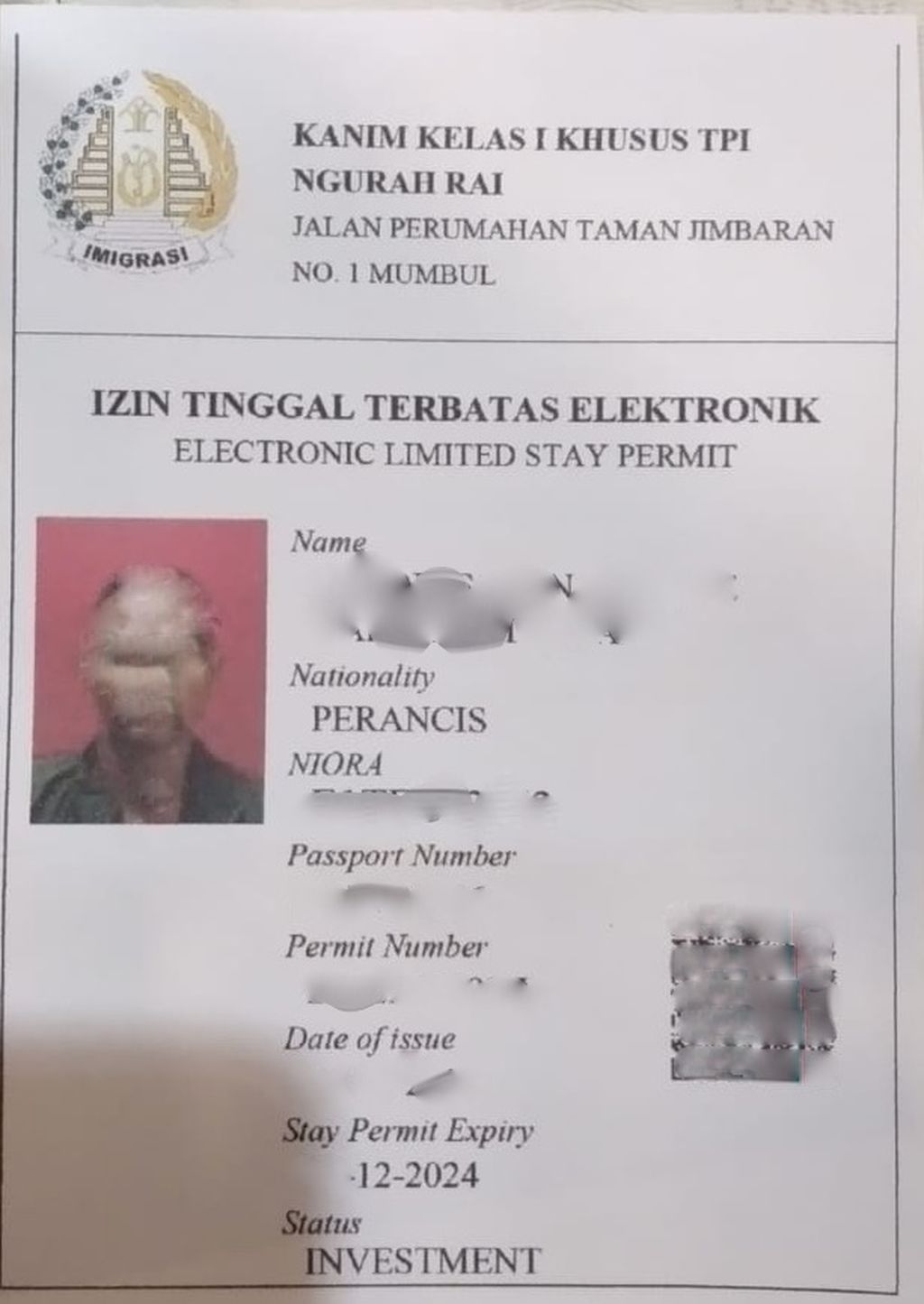 Violation
The head of the regional office of the Law and Human Rights Ministry in Bali, Anggiat Napitupulu, said foreigners were not allowed to work in Indonesian territory using an investor's KITAS. An investor's license can only be used to invest in certain businesses, not to work and receive wages.
According to Anggiat, foreigners cannot work as commercial photographers at all. Foreigners can only become photographers for journalistic purposes.
Foreigners have the opportunity to work as models in Indonesia. However, Anggiat emphasized foreign models cannot use the B211A visit visa.
Regarding foreigners who work to deliver and pick up motorbikes in the vehicle rental business, Anggiat believes he is working illegally because foreign workers are now allowed to fill such jobs.
Also read:
> Bali Still Depends on Tourism
The Bali Regional Office of the Law and Human Rights Ministry noted from January to April, 101 foreign nationals were deported. Of the total, 48 people were violating other laws (including customary rules); 43 people were staying in Bali beyond the period according to their residence permit; and 10 people were violating immigration permits.
The Director General of Immigration at the Law and Human Rights Ministry, Silmy Karim, said the ministry was evaluating a number of immigration policies in order to control incoming foreigners more effectively.
Foreigners holding investor visas will also be disciplined so they will not misuse the visas. "So, old investor visas will be evaluated because most of them have been misused," said Silmy.
It's not that we are anti-tourist.
The Vice Governor of Bali Tjokorda Oka Artha Ardana Sukawati acknowledged due to easing of procedures, foreigners could now easily travel to Bali, but there was a lack of oversight.
The provincial government of Bali has also formed a task force to accelerate the implementation of tourism regulations to address problems related to foreigners. "It's not that we are anti-tourist. However, action is needed if tourists who come do not contribute to society. With stricter control, Bali can slowly improve its status to become a higher-quality tourist destination," he said.
Meanwhile, local Balinese entrepreneurs have acknowledged they were disturbed by the large number of foreigners opening the same type of business as they have. The motorbike rental owner in Kerobokan Kelod, North Kuta, Badung, I Gede Agus Suparsawan (30), admits the motorbike rental business run by foreigners is superior in two aspects. First, foreigners have larger capital. Second, they are more adept at communicating with potential foreign customers. (JOG/FRD/DVD/COK/ILO)