›
English
›
Sam Altman: AI is the Most...
Sam Altman: AI is the Most Impactful Technological Revolution in Human History
I am of the opinion that AI cannot be stopped, and it should not be stopped. However, we need to guide and direct it well.
By
SATRIO PANGARSO WISANGGENI
The following article was translated using both Microsoft Azure Open AI and Google Translation AI.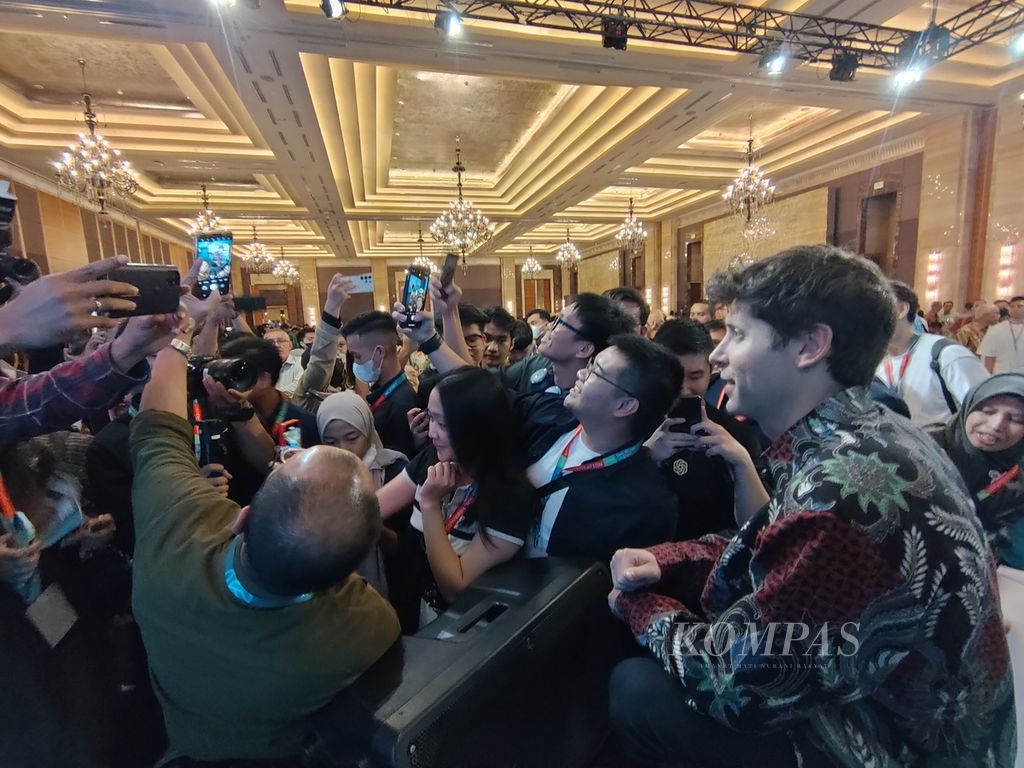 Perhaps nothing has meant more to OpenAI CEO Sam Altman than when thousands of researchers and tech industry leaders in an open letter in late March called for a moratorium on the development of more sophisticated artificial intelligence (AI). from GPT-4.
The potential of GPT-4, an artificial intelligence model developed by OpenAI, is considered to have the ability to drastically change the world, triggering awareness of the urgency of AI regulation.
Shortly after the open letter was circulated, Altman planned a world tour. He tried to convince the world of the potential of AI revolution. He has now met with the United States Congress, the European Commission, the President of France, the Prime Minister of India, the President of Israel, and the President of South Korea.
Also read:AI and Anxiety about the Future of Work
On Wednesday (14/6/2023), Indonesia became the 21st country he has visited in the last month.
The Q&A session with Altman lasted for one hour and was moderated by the Chairman of the Artificial Intelligence Research and Innovation Collaboration (Korika), Prof. Hammam Riza. The Indonesian Minister of Education, Culture, Research, and Technology, Nadiem Makarim, also directly asked Altman a question.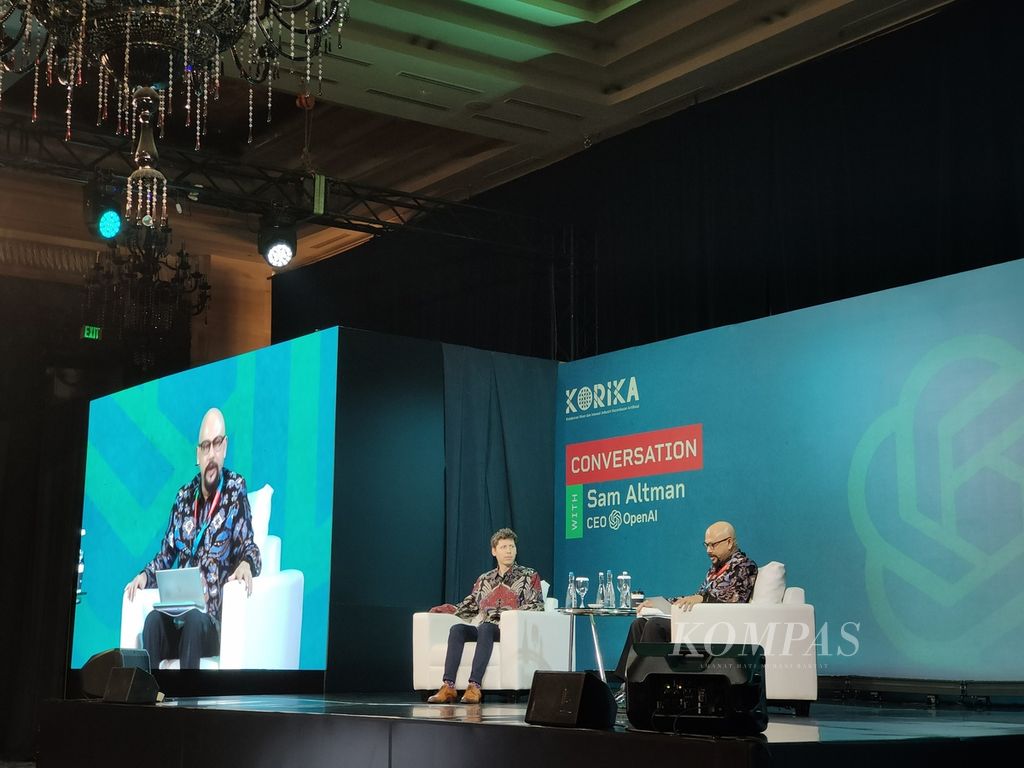 In the event "Conversation with Sam Altman" held at Hotel Indonesia Kempinski Jakarta, Altman, who wore a batik shirt, expressed various opinions about the future of education, what are still the weaknesses of GPT-4, and collective efforts that can be made by the world community to ensure the safe use of AI for human civilization.
The following is an excerpt of the Q&A with Altman. The questions were gathered from the previous audience. This conversation has been edited for brevity.
Q: Who do you think 'owns' the creations of AI? What is the AI ​​modeler? Data-generating societies used to train AI models? Or the one giving the command prompt to the AI?
J: In my opinion, we need a new scheme to address this issue. It is important to me that there are benefits shared with the community whose data has helped train the AI model. If you are a creator whose work is used to train AI, I think you are entitled to benefit as well.
However, on the other hand, if you as a user can provide unique commands or prompts, the output results from AI should also belong to the command issuer.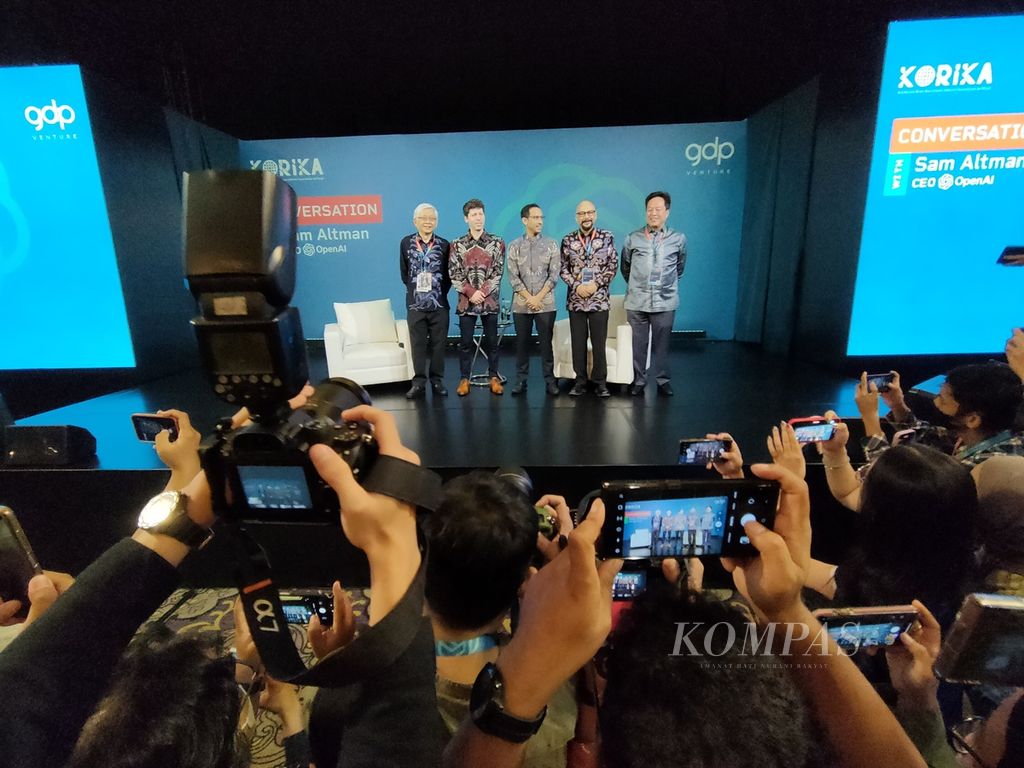 Q: How do you see the future of education? Teachers are currently panicking about how to assess students' progress when they use AI?
J: Education will change dramatically. However, such a significant change is not a new story. Throughout history, communities have often been concerned about the future of education whenever new technologies emerge. Such concerns have also arisen with the advent of calculators and search engines.
Just like the introduction of calculators or search engines, teachers need to change the way they evaluate their students. We will also teach students in different ways.
Also read:Responding to AI Trends in Education and Research
It would be very strange if nowadays calculus students were not allowed to use a calculator during exams. So, if teachers still force their students to use traditional methods without AI assistance, it would also be unusual. Because, when they graduate, if they are not accustomed to using AI tools, they will not be able to compete.
"For children who are starting to learn this year, I think they will be much more capable than us in the future because they learn with newer and better tools. This is how human civilization continues to develop."
Throughout history, society has been concerned about the future of education whenever new technology emerges. Such concerns have also arisen with the advent of calculators and search engines.
Q: What do you think is very important for humanity, but AI can't do yet?
J: The ability to generate new ideas. For example, Newton spent a lot of time learning and discussing to enhance his mathematical skills. Our AI model, so to speak, also does the same thing.
However, no matter how many books he reads, he cannot create calculus on a whim. Newton was able to think and use his creative power to discover new things.
Well, this is something that AI has not been able to do yet. To think and generate new ideas that have never existed before. So I think this is the next step; how we can teach AI to do that.
Q: Actually, who determines the answers generated by AI? Expert consensus or a dedicated panel? What about the bias of existing answers?
Who determines the moral values held by the AI system, who determines what can and cannot be done by AI, will be very important and debatable.
"But I think, every country may have different rules regarding AI. AI can be instructed to read the laws in Indonesia and be asked to abide by them. We can also ask AI to follow our personal moral values."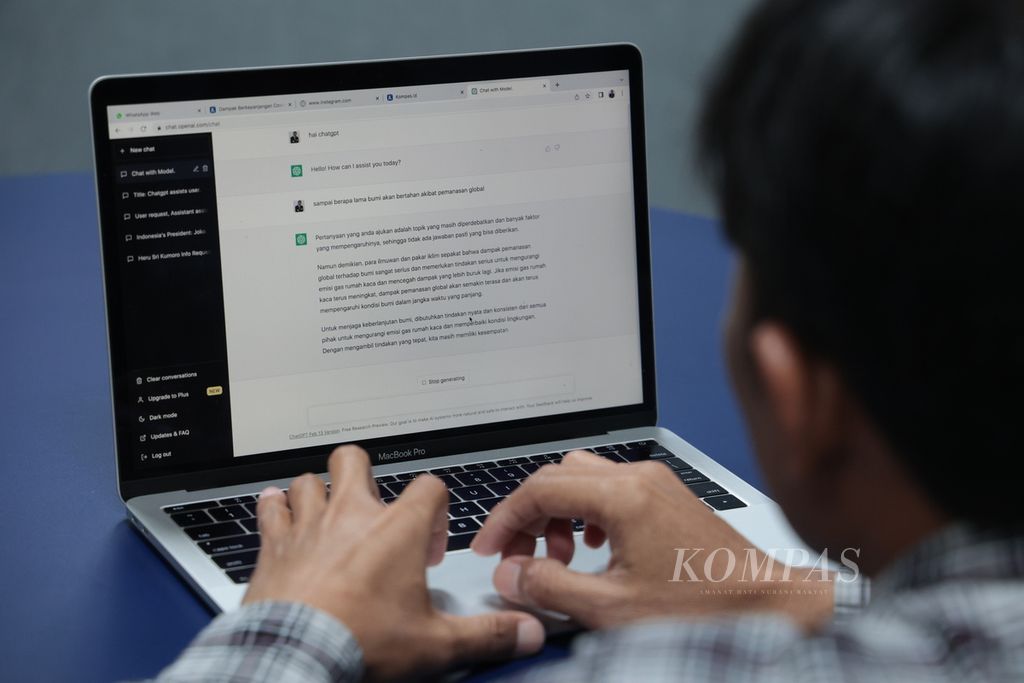 However, for large-scale regulations, I don't think it should be determined solely by OpenAI. Currently, the values in ChatGPT are determined by researchers at OpenAI. However, in the future, we want to make this process as democratic as possible.
I also believe that there needs to be a global attitude agreed upon by all countries. Creating this global agreement will of course be difficult, but we as human beings have previously done something similar. Now we have agreements on things like atomic bombs and biological weapons.
Also read:Development of Artificial Intelligence Raise New Dilemmas
Q: What has OpenAI done and will do to improve its ability to process Indonesian as an effort to increase inclusiveness globally?
J: This is indeed our goal. The English language capabilities of GPT-3 are fairly good, but only sufficient for other languages. GPT-4 can understand 20 percent of the most popular languages in the world well, but may still be insufficient for the other 80 percent of languages.
We hope that GPT-5 can understand other languages in the world well, including specific dialects. We need help with that.
"If only Indonesia could provide us with its dataset, we would be very happy to accept it and integrate it into our next AI model. The next AI model will be very useful for the people of Indonesia, and we would be very happy to collaborate on that."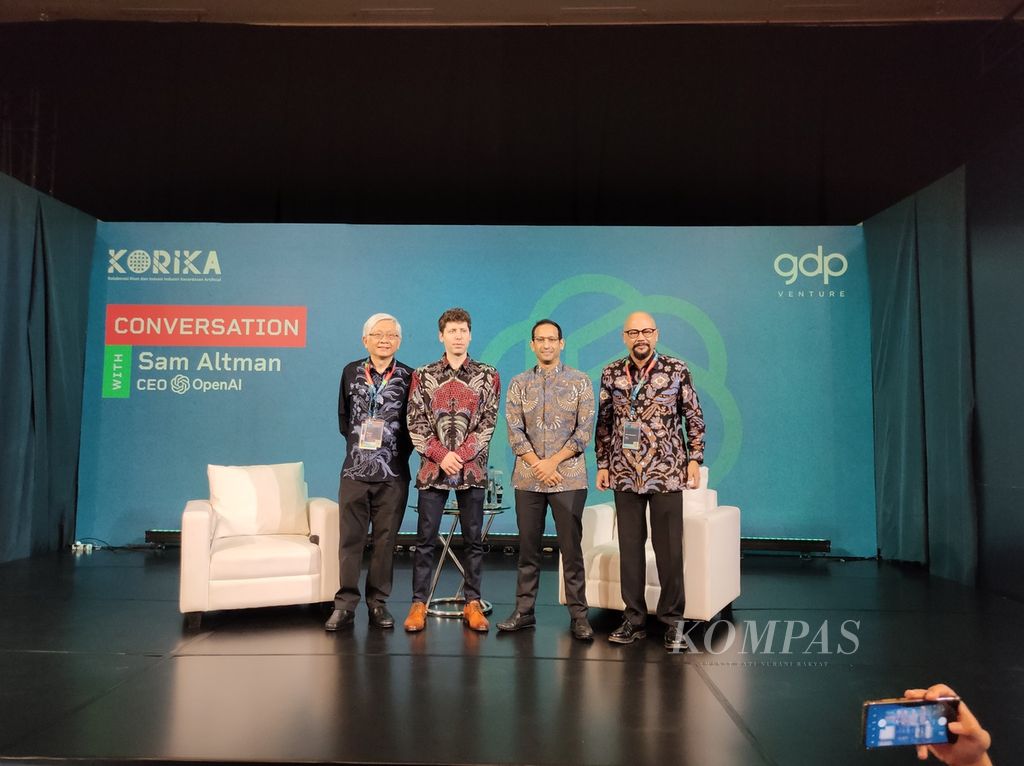 Q: What is your closing line?
J: I am confident that (AI) could potentially become the most impactful technological revolution ever created by mankind.
I believe that 25-50 years from now, the world can become a much better place. It is almost unimaginable how much better the quality of life of the world's population will be in the future.
I believe that this technology cannot be stopped, and indeed should not be stopped. However, we need to guide and direct it properly.
Certainly, this is one of the biggest challenges we have ever faced and at the same time, the most exciting challenge.
I believe that the future of the world will be bright, but we still have a lot of work to do.