›
English
›
Year of Justice, When Will it ...
Year of Justice, When Will it Arrive?
The people generally fill the role of "political subjects". However, the possibility remains wide open for the people to be plunged into the depths of practical politics objects and victims.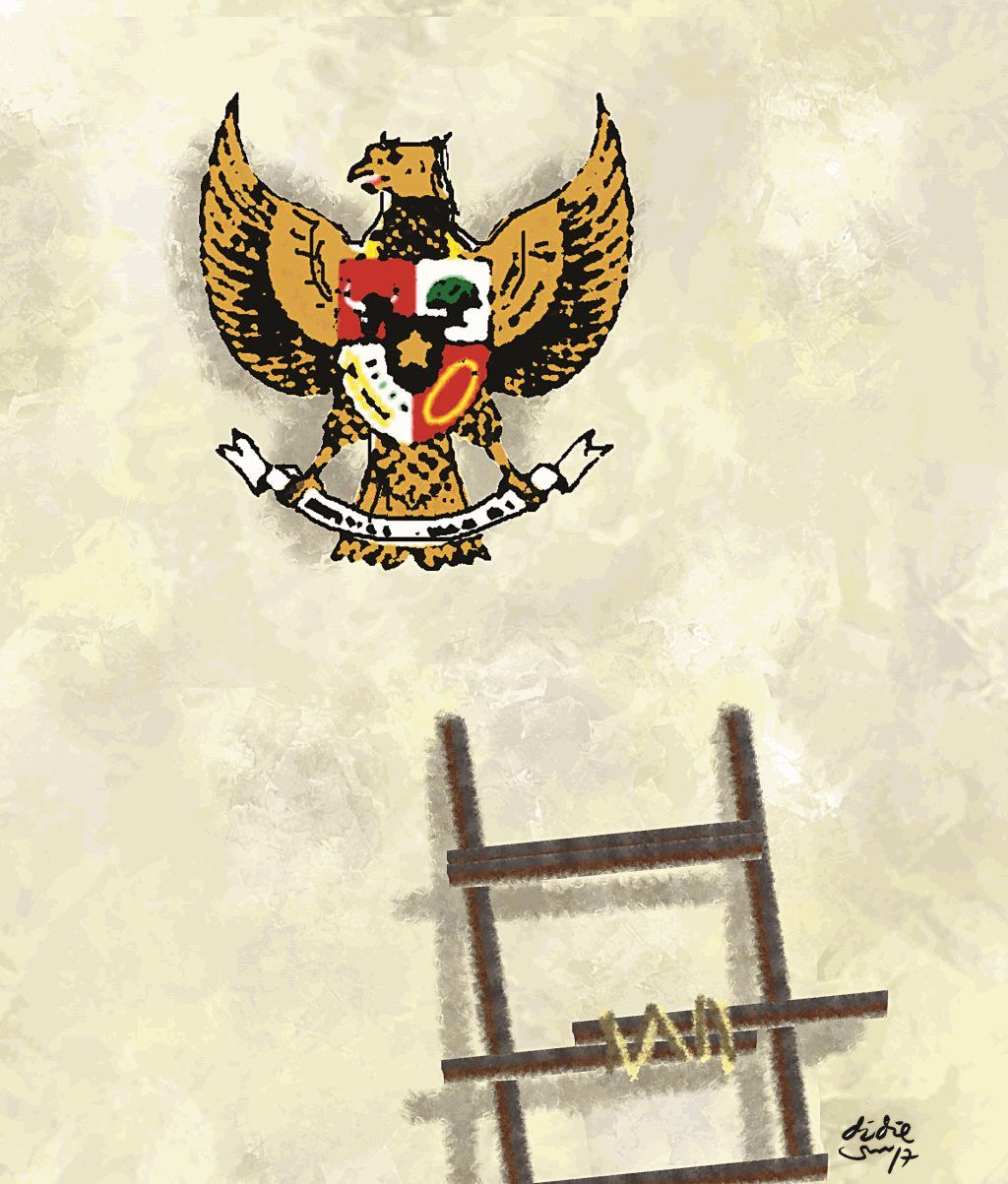 Every time the nation enters a political year, everyone is urged to participate in political activities. Public participation in politics is a key part of a democracy.
The people generally fill the role of "political subjects". However, the possibility remains wide open for the people to be plunged into the depths of practical politics objects and victims.
We are saddened that the political elite continue to campaign on the so-called political year and yet, politicians remain immature in state affairs. Instead of maturing, many politicians and regional heads succumb to corruption. This is despite political parties' role as powerful institutions to help citizens engage in democratic processes.
Law and justice
In its editorial piece titled "Economic Sharing for Farmers" (Mar. 10, 2018), Kompas highlights the Indonesian Chamber of Commerce's (Kadin) efforts to achieve welfare for farmers and fishermen through a partnership. Palm oil plantation partnerships were cited as success stories. Farmers enjoy market assurance as their products are absorbed by partner businesses.
On the surface, no apparent relation exists between a political year and an economic partnership model. Politics and economic activities seem to be mutually exclusive. Such a perception must be straightened out. Here, I will show how the two are closely related and interlinked with each other as a unity. This unity will be apparent if seen through the perspective of "justice".
Justice is the fair treatment of something. Justice is not merely about the equal distribution of wealth and power. It is about the need to fulfill every human being's spiritual health and needs without any reduction whatsoever. Justice, therefore, falls within the realm of morality, instead of a matter of logic and mathematics.
In the 1945 Constitution, Indonesia declared itself as a state based on rule of law. Before the Constitution was approved on Aug. 18, 1945, the country had various legal systems, including religious law, customary laws, colonial law, international law and other laws. These problematic laws were fixed, one step at a time. Western (colonial) law was revoked and was replaced with national law. Various treaties were ratified. Customary laws were cleansed of feudalistic and exploitative provisions, ensuring that they were based on religious elements that prevailed upon the land, the sea, the air and all the natural resources contained therein. These problematic laws were repaired according to Pancasila values.
Explicit mandates on fairness and justice are found in the second and fifth principles of Pancasila. Philosopher Notonagoro in Pancasila by Way of Popular Science (1971) said the justice expressed in Pancasila's second principle referred to human beings applying principles of fairness to themselves, to other people and in relation to causa prima (the One and Almighty God). The justice mentioned in the fifth principle refers to social justice based on the belief in God, a just and civilized humanity, a unified Indonesia and a representative democracy. Social justice for all Indonesians is the ultimate goal of the nation and the state.
Pancasila paradigm
Within the framework of Indonesia as a state based on rule of law and a philosophical foundation on statehood (Pancasila), political and economic activities – and all other state activities, for that matter – must be managed to achieve social justice for all Indonesia and Indonesians. In other words, political and economic activities must be founded on the Pancasila paradigm. How is this achieved?
First, political science and economics are studied, taught and applied in practice to manage power and for the sake of the people's welfare. Politicians, political parties, businesspeople, industrialists and conglomerates must remain committed to the nation and the state. Power is merely a tool and national welfare is the ultimate goal.
Second, power – which Lord Acton said tends to corrupt – must be controlled by the law to be used proportionately in attaining and maintaining justice. The use of power must be based on law and not on power for its own sake. Politics and the economy, both conceptually and practically, must be separated from the use of physical power (through thuggery and abusing law enforcement agencies) and non-physical power, especially capitalism.
Third, all laws are valid so long as they abide by the moral values of Pancasila. Justice is the spirit of the law. Based on religious, humanitarian and nationalist laws, political and economic activities will be proportionate, just and civilized. Political and economic practices will be polite, easy on the ears and the eyes and calming to the heart. It will comprise empathy and be absent of anger.
Fourth, the interlinking of law, politics and the economy is inevitable. Boaventura de Sousa Santos said in 1995 that laws (regulations) as a representation of modernism must always be used to achieve stability in politics, the economy, social affairs, culture, security and other elements of statehood. Political and economic activities are covered in state regulations. However, in the current post-modernist era, regulations tend to reduce individual freedoms and justice. Why? This is because regulations are political products born out of transactions. Consequently, social justice is nearly impossible to achieve. It has become a rare and pricey commodity.
Fifth, as law is dominated by politics and the economy, government activities tend to be imbued with politico-economic interests at the expense of justice. The partnership between Kadin and local farmers and fishermen is believed to have been rife with political and economic interests and aims to control political and economic rights as well as freedoms to prevent any unrest.
We long for justice. We dream of becoming an independent nation. Hypocrisy, domination and exploitation must be eradicated. What is the meaning of political and economic democracy if justice is so far from our grasp? A year of justice must therefore be promoted.
Sudjito Atmoredjo, Law Professor, Gadjah Mada University