›
English
›
Carbon Exchange Launched,...
Carbon Exchange Launched, Potential to Reach IDR 3,000 Trillion
The official carbon exchange is held by the Indonesian Stock Exchange and supervised by the Financial Services Authority. This exchange is expected to be a concrete step for Indonesia to reduce carbon emissions.
The following article was translated using both Microsoft Azure Open AI and Google Translation AI. The original article can be found in Bursa Karbon Diluncurkan, Potensinya Capai Rp 3.000 Triliun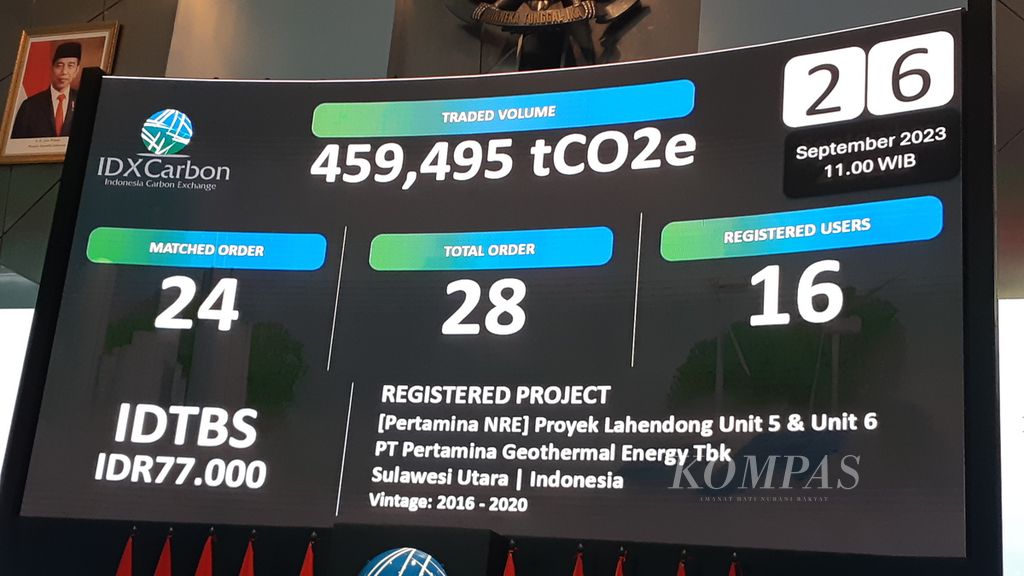 JAKARTA, KOMPAS — The potential value of carbon trading is estimated at IDR 3,000 trillion. This potential is from calculating reducing greenhouse gas emissions or carbon which is 60 percent produced by nature-based businesses and industries. The nominal amount can be invested in projects to reduce carbon emissions that cause the earth's temperature to rise.
"In my records, there is approximately 1 gigaton of CO2 potential carbon credits that can be captured. If calculated, the carbon potential could reach IDR 3,000 trillion, or even more. "A very large number, which will certainly be a new economic opportunity that is sustainable and environmentally friendly, in line with the world's direction towards a green economy, because we can and already feel the threat of climate change," said President Joko Widodo when opening the national carbon exchange on Indonesian Stock Exchange, Tuesday (26/9/2023)
The carbon exchange, which is officially organized by the IDX and supervised by the Financial Services Authority (OJK), is hoped by President Jokowi to be a concrete step for Indonesia to reduce carbon emissions. Based on the national contribution document (nationally determined contribution/NDC) updated in 2022, Indonesia is targeted to reduce more than 3 gigatons of CO2 by 2030 .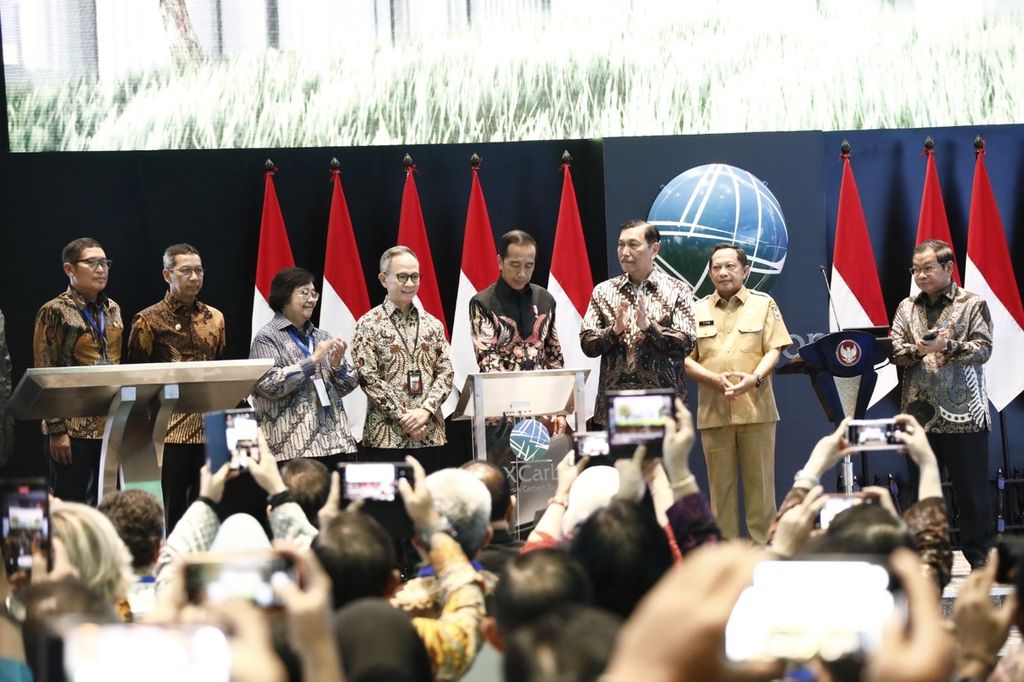 At the same event, Luhut Binsar Pandjaitan as Chair of the Organizing Steering Committee Carbon Economic Value hopes that the potential for carbon trading through this exchange can also be captured by international carbon trading actors. The national exchange is believed to be unique due to the diversity of emission-producing business sectors, the majority of which are nature-based.
Until now, carbon trading can be followed by companies or industries in the energy, forestry, agriculture, general industry sectors, following the maritime sector.
Businesses or industries that have certified carbon emissions and are included in the National Registry System for Climate Change Control (SRN-PPI) can register for the stock market. Subsequently, companies that produce a lot of carbon emissions can purchase carbon unit securities. Companies that are able to absorb and produce minimal emissions can sell securities through carbon emission reduction projects.
Also read: Carbon Exchange Encourages Green Funding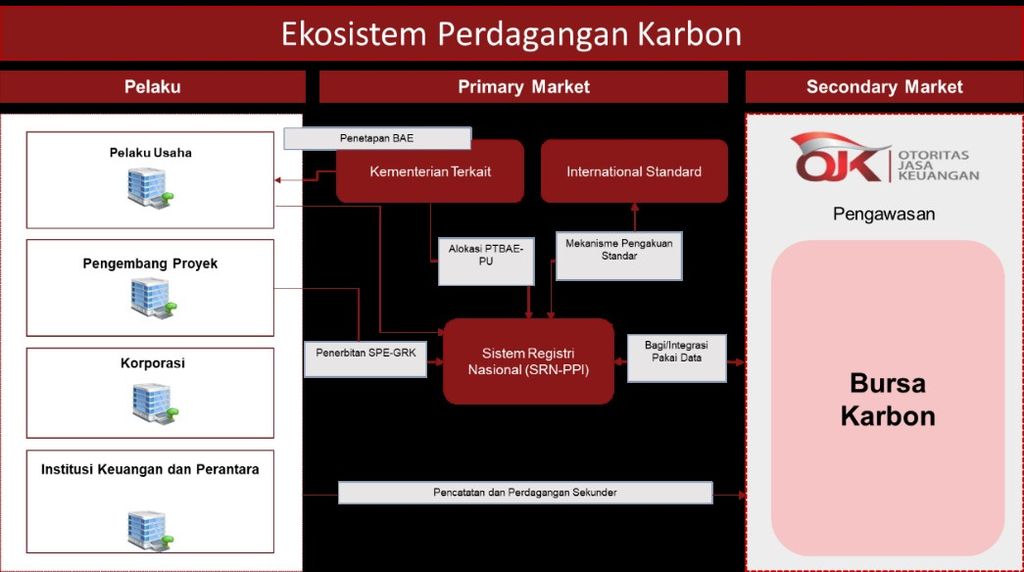 This transaction is openly conducted in the secondary market of the IDX integrated with SRN-PPI. The system, according to Luhut, will continuously be perfected in order to optimize the acceleration of registration and transparency of trade.
"Mr President, we report that we must become a market regional hub so that carbon units are available according to international standards. "We will work with international standards so we need to accelerate mutual recognition arrangements so that the registration process can be faster," he said.
Outside of this exchange, Luhut said that international carbon trading on the voluntary carbon market (VCM) in Indonesia is also promising. For example, the company Amazon Web Services has committed to a carbon purchase investment of US $ 5 billion.
Indonesia can also capture green funding from The Rockefeller Foundation and The Bezos Earth Fund, who are collaborating with the World Bank to provide $4.5 billion to support developing countries in monetizing carbon credits. Funding like this can be recorded in SRN-PPI.
Bought by bank
The Indonesia Carbon Exchange (IDXCarbon) has recorded that as of the market's closing at 4:00 PM today, a total of 459,953 tons of carbon units were traded with a value of Rp 29.2 billion in 27 transactions.
The carbon units were sold by Pertamina New and Renewable Energy (PNRE) Lahendong Project units 5 and 6 PT Pertamina Geothermal Energy Tbk (PGEO) in North Sulawesi. The company offers two prices, namely IDR 69,600 and IDR 77,000 per unit of carbon. The price is transacted through existing mechanisms, without a marketplace, namely auctions, regular transactions and negotiations.
The buyers of the carbon units are dominated by the banking industry, such as PT Bank Central Asia Tbk, PT Bank CIMB Niaga Tbk, PT Bank DBS Indonesia, PT Bank Mandiri Tbk, PT BNI Sekuritas, and PT BRI Danareksa Sekuritas. Others are from diverse industries, such as PT CarbonX Bumi Harmoni, PT MMS Group Indonesia, PT Multi Optimal Riset dan Edukasi, PT Pamapersada Nusantara, PT Pelita Air Service, PT Pertamina Hulu Energi, and PT Pertamina Patra Niaga.
Director Main BEI and Organizer of the Indonesian Carbon Exchange, Iman Rachman, explained that this transaction, which is dominated by the banking industry, shows their support for fulfilling Environmental, Social and Governance aspects. (good business governance) for their company.
"The ones who bought it were banking issuers. They support ESG, both to fulfill CO2 reductions, others totap their investors who areconcerned to ESG," said Iman in a press conference after the opening of the carbon exchange at the BEI Building, Jakarta.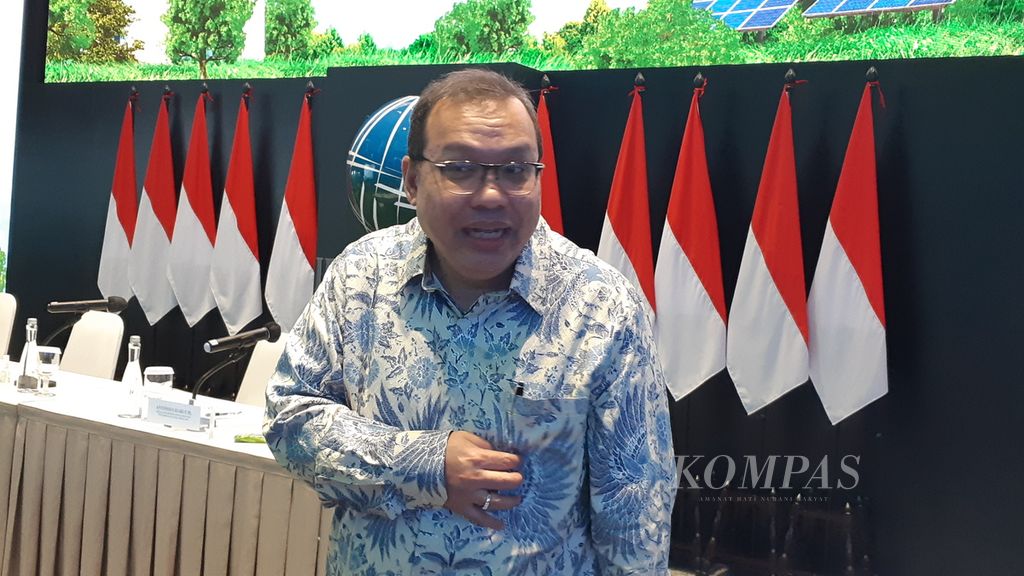 Executive Head of the Indonesian Financial Services Authority's Market Supervision of Capital Markets, Derivatives, and Carbon Trading Division, Inarno Djajadi, added that several banking industries are already familiar with carbon trading for various strategies.
"One of them, which always carries out verifications, is Sustainalytics, which may require this bank to go green by purchasing existing carbon units. Therefore, we see several banks taking the initiative, including regional banks," he said.
Also read: Waiting for the Arrival of the Carbon Exchange
Outside of the banking sector, the government is also waiting for coal-fired power plant companies to join as buyers in the carbon market. Based on data from the Ministry of Energy and Mineral Resources, there are 99 steam power plants (PLTU) with the potential to participate in carbon trading. This number is equivalent to 86 percent of the total coal-fired PLTU operating throughout Indonesia.
Meanwhile, power generation companies that develop renewable energy are also invited to participate as sellers. So far, the wind and gas power generation companies that have been confirmed to enter the market are PT UPC Sidrap Bayu Energi and PT Pembangkitan Jawa Bali UP Muara Karang owned by PLN.
Alternative
Director General of Climate Change Control at the Ministry of Environment and Forestry, Laksmi Dewanti, has stated that the government is encouraging all sectors of business and industry to join the SRN-PPI so that the carbon emissions they produce can be inventoried.
To date, there are 1.7 gigatons of CO2 from emission reduction certificates recorded in the SRN-PPI. The carbon value does not have to be traded by industry or business on the carbon exchange. Ministries such as KLHK have several carbon reduction mechanisms, especially for businesses or industries that are not environmentally friendly.
"KLHK has several instruments, including law enforcement. They must reduce greenhouse gases, which can be certified. If they don't want to sell, it's fine as long as they reduce greenhouse gas emissions on their own," he said.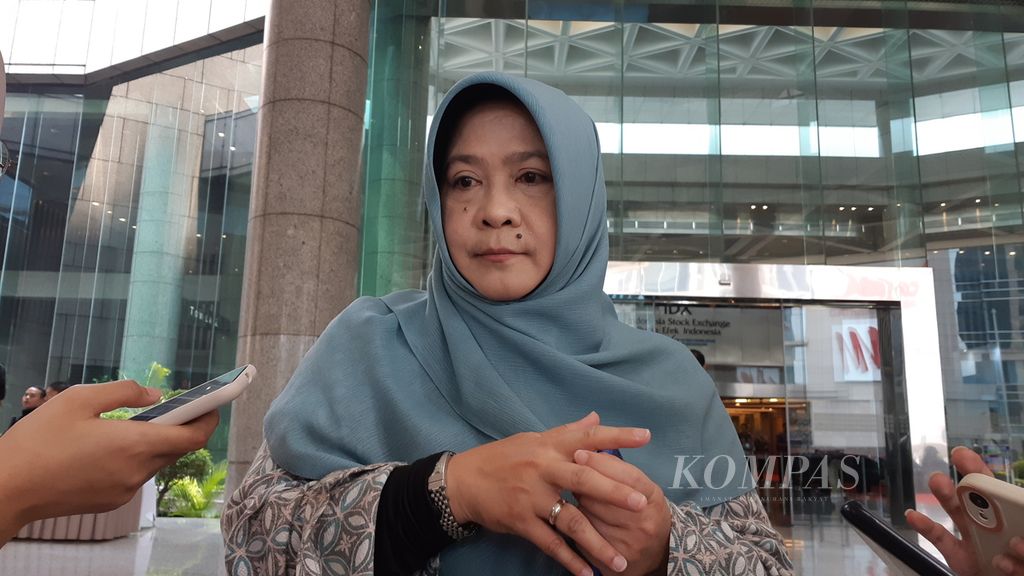 Stock exchange trading should not be the only way for businesses and industries to fulfill their emission reduction obligations. Laksmi emphasized that emission-producing companies must first make independent efforts to reduce emissions at the source.
"If it's not new enough, you canoffset or balance it. For example, I have emissions of 200, even though my quality standard is 100. However, I am only able to reduce emissions with my efforts by 30. So, I subtract 70 using offsets, I buy a greenhouse gas reduction certification unit, can buy from the stock exchange. "I can't, if I have emissions of 200, it's all replaced by the purchase of carbon units," he said.
Also read: Carbon Trading Has the Potential to Trigger New Environmental Problems
Editor:
MUHAMMAD FAJAR MARTA