›
English
›
Mbah Gepuk and Pesugihan in...
Mbah Gepuk and Pesugihan in the History of Bentara Budaya
Bentara Budaya held an exhibition featuring figures and events linked to the institution. In the exhibition room you will find artists across disciplines, Bedouin residents, and even spirits in pesugihan rituals.
This article has been translated using AI.
The following article was translated using both Microsoft Azure Open AI and Google Translation AI. The original article can be found in Mbah Gepuk dan Pesugihan dalam Lintasan Sejarah Bentara Budaya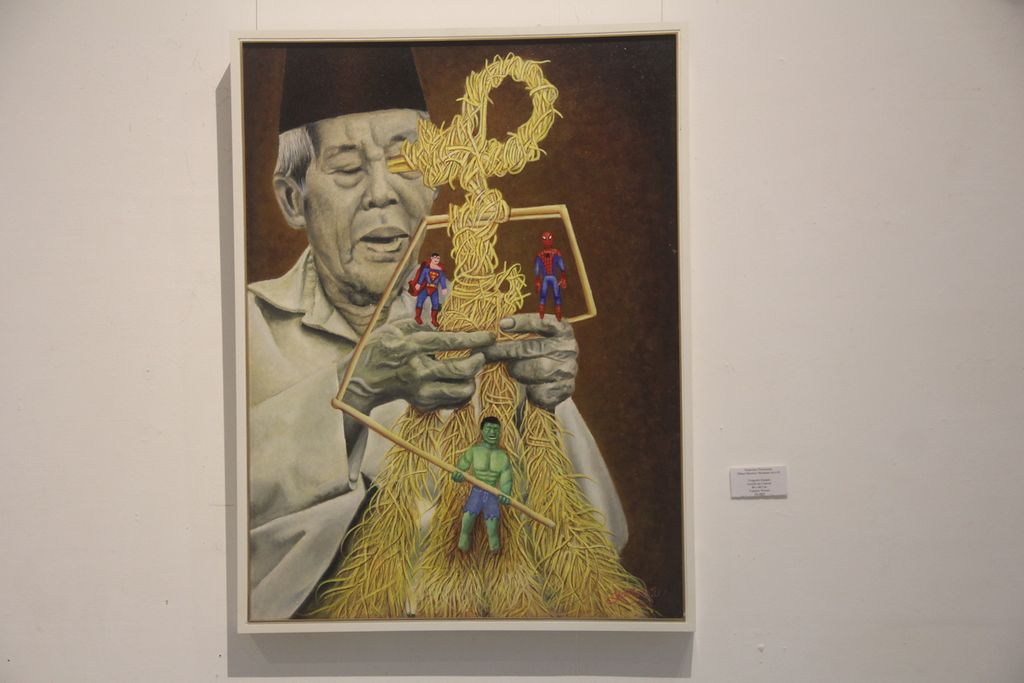 The painting depicts an old man who is crafting a puppet out of grass. The man's wrinkled hands can be seen meticulously intertwining the strands of yellowish grass to form the puppet's figure. Among the incomplete puppets, one can spot three superhero figures: Superman, Spiderman, and Hulk.
The old man in the painting is Mbah Gepuk, a suket puppet artist from Purbalingga, Central Java. In 1995, the artist, whose real name is Kasanwikrama Tunut, was invited to exhibit his suket puppets at Bentara Budaya Yogyakarta, in the city of Yogyakarta.
Approximately 28 years later, Mbah Gepuk returns to Bentara Budaya Yogyakarta through the Mikul Duwur Mendhem Jero #2: Pertemuan exhibition. In the exhibition, which opened on Friday (15/9/2023) night, there are several paintings depicting his figure.
One of them is a painting entitled "Tergerus Zaman" by Yantoto Warno which juxtaposes the figure of Mbah Gepuk and his wayang suket with several superheroes.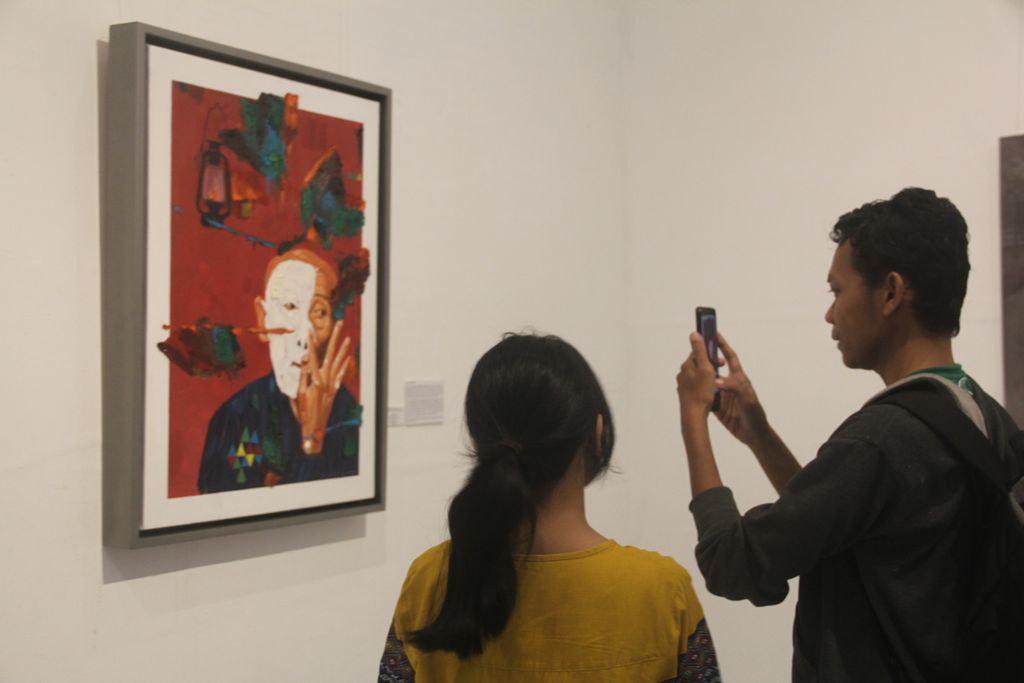 Through this painting, Yantoto seems to want to create a contrast between wayang suket and superheroes. Several superheroes from far away countries are very popular in Indonesia, in contrast to the fate of wayang suket which has been eroded by time and is almost no longer heard of. Moreover, Mbah Gepuk passed away many years ago.
However, the figure of Mbah Gepuk has never truly been forgotten. Several paintings displayed in the Mikul Duwur Mendhem Jero #2: Pertemuan exhibition serve as evidence that the suket puppet master is still remembered by some people. In addition to Yantoto Warno, two other painters, namely Sigit Ananta and Sriyadi Srinthil, also featured the figure of Mbah Gepuk in the exhibition.
Also read: "Ajur Ajer" 40 Years of Bentara Budaya
Exhibition of Mikul Duwur Mendhem Jero #2: The meeting is one of the series of activities to welcome the 41st anniversary of Bentara Budaya on September 26, 2023. The exhibition, which runs until Thursday (9/21/2023), showcases paintings by 23 artists who respond to photos of activities and events at Bentara Budaya.
Established in Yogyakarta on September 26th, 1982, Bentara Budaya is a cultural institution under the Kompas Gramedia business group. The institution expanded its reach to three other areas, namely Jakarta, Surakarta, and Bali. However, in recent years, the activities of Bentara Budaya have been centered in Jakarta and Yogyakarta.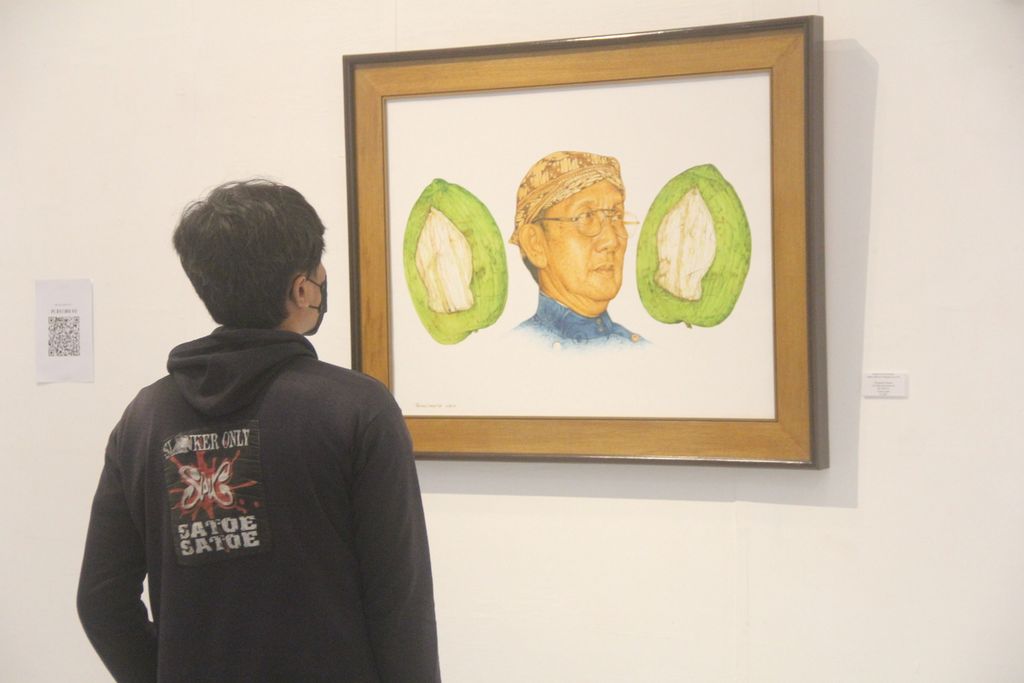 The manager of Bentara Budaya Yogyakarta, Ni Made Purnamasari, stated that the paintings in the Mikul Duwur Mendhem Jero #2 exhibition depict several figures who have met and worked at Bentara Budaya. The meeting that occurred at Bentara Budaya is considered to have played a role in influencing the dynamics of art in Indonesia.
"We believe that those meetings are very valuable because they also color the world of ideas, art, and thought. This is our tribute to the artists who have attended, met, and exchanged ideas at Bentara Budaya," said Purnama at the opening of the Mikul Duwur Mendhem Jero #2: Meeting exhibition."
Long gait
Apart from Mbah Gepuk, the paintings in this exhibition showcase several interdisciplinary artists who have previously interacted with Bentara Budaya. One of the impressive works is a painting by AK Harun entitled "Silent Speech." The painting depicts the figure of Jemek Supardi, a Yogyakarta pantomime artist who passed away in July 2022.
In the painting, Jemek is depicted holding a megaphone, as if delivering a speech. However, as a pantomime artist, Jemek surely never utters any words while performing. Nevertheless, through his painting, AK Harun seems to want to show that Jemek's performances have successfully conveyed messages without having to utter a single word.
Also read: Cultural Herald, Jakob Oetama's Vision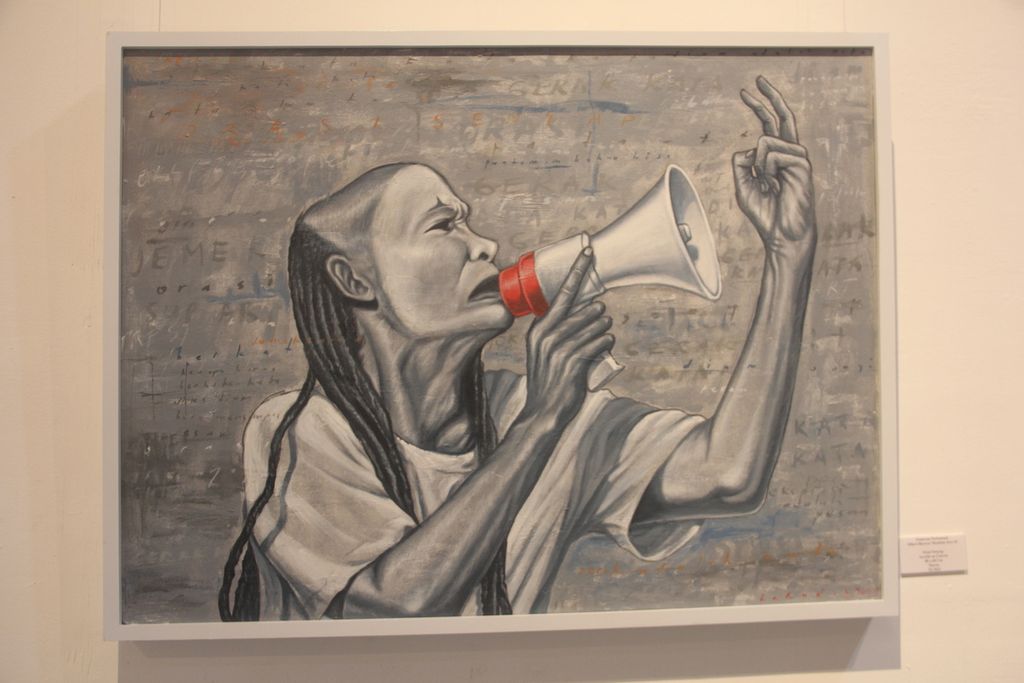 Another figure who was also brought back through this exhibition is the painting maestro Affandi. Three artists, Bagus Triyono, Emma Dessy, and Iskandar Sy, each made a painting about Affandi. Affandi's figure appears in this exhibition because he once became a speaker in a discussion at Bentara Budaya Yogyakarta with artist Batara Lubis.
Another artist featured in the paintings at the Mikul Duwur Mendhem Jero #2 exhibition: Meeting is the Dewi Losari mask dancer, Ki Warno Waskito mask craftsman, puppeteer Ki Manteb Soedharsono and Ki Gondo Darman, cultural scholar Sindhunata, painter Hendra Gunawan, and Toet who is a didong artist, a traditional performance art from Gayo, Aceh.
Also read: 39 Years of Cultural Heritage Caring for the Arts
This is our tribute to the artists who have previously attended, met, and exchanged ideas at Bentara Budaya.
Meanwhile, several other paintings in this exhibition are related to activities that have been held at Bentara Budaya. For example, a painting by Angga Yuniar depicts the atmosphere of Jazz Mben Senen, which is a regular music performance at Bentara Budaya Yogyakarta.
Three paintings created by Danang Lemu, Giring Prihatyasono, and Nur Iksan Breykele draw inspiration from the exhibition of Badui community life photographs held at Bentara Budaya Yogyakarta in 1988.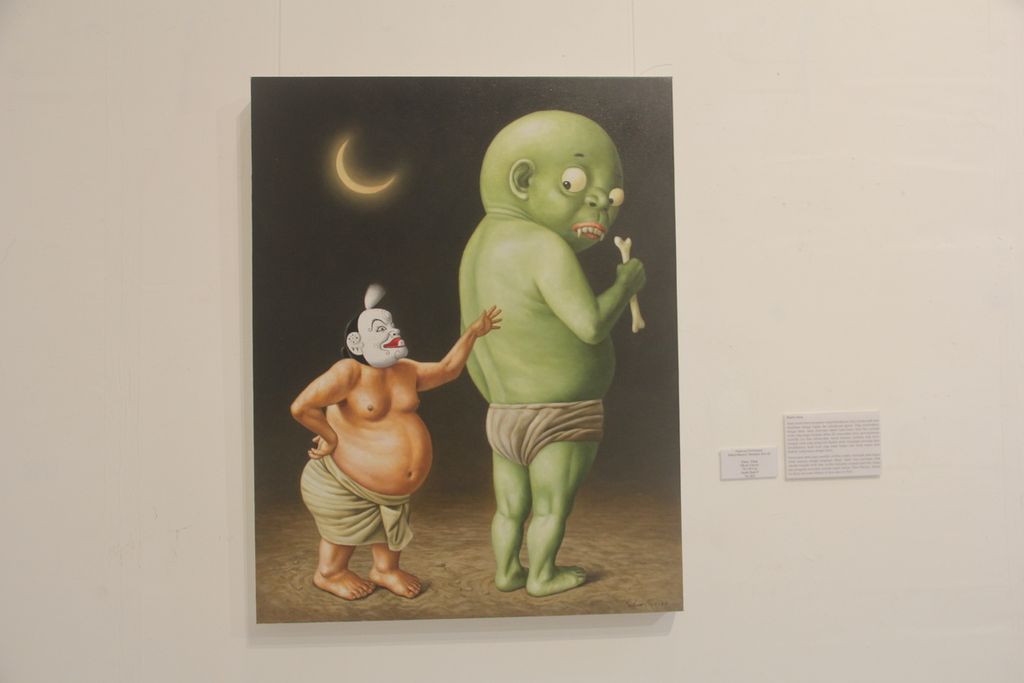 The painting titled "Eling-eling" by Susilo Budi depicts the figure of Semar alongside a giant green-bodied creature holding a bone. The painting appears to be inspired by the supernatural creatures often depicted in the works of Tjitro Waloejo, a traditional painter from Surakarta, whose artworks have been displayed at Bentara Budaya Yogyakarta.
Generally, the Mikul Duwur Mendhem Jero #2 exhibition: Meeting Success has become one of the notable records of Bentara Budaya's long journey in the Indonesian art world. This exhibition also shows the extensive field of art that has been present throughout the institution's history.
General Manager of Bentara Budaya and Corporate Communication Management of Kompas Gramedia, Ilham Khoiri, stated that since its establishment around 41 years ago, Bentara Budaya has showcased various expressions of cultural arts in Indonesia. The events held at Bentara Budaya include not only art exhibitions, but also performance arts, discussions, book reviews, film screenings, music performances, and more.
"All of this demonstrates Bentara Budaya's effort in becoming a cultural home for diverse artistic expressions from Indonesian artists," said Ilham in his writing for the exhibition catalog of Mikul Duwur Mendhem Jero #2: Pertemuan.
Editor:
CHRISTOPERUS WAHYU HARYO PRIYO