›
English
›
Optimize Rice Production,...
Optimize Rice Production, Anticipate Harvest Failure
To maintain national food security, the government needs to optimize rice production in the first planting season. Apart from that, the government also needs to anticipate crop failure due to drought.
By
HENDRIYO WIDI, NINO CITRA ANUGRAHANTO, ABDULLAH FIKRI ASHRI
The following article was translated using both Microsoft Azure Open AI and Google Translation AI. The original article can be found in Optimalkan Produksi Beras, Antisipasi Gagal Panen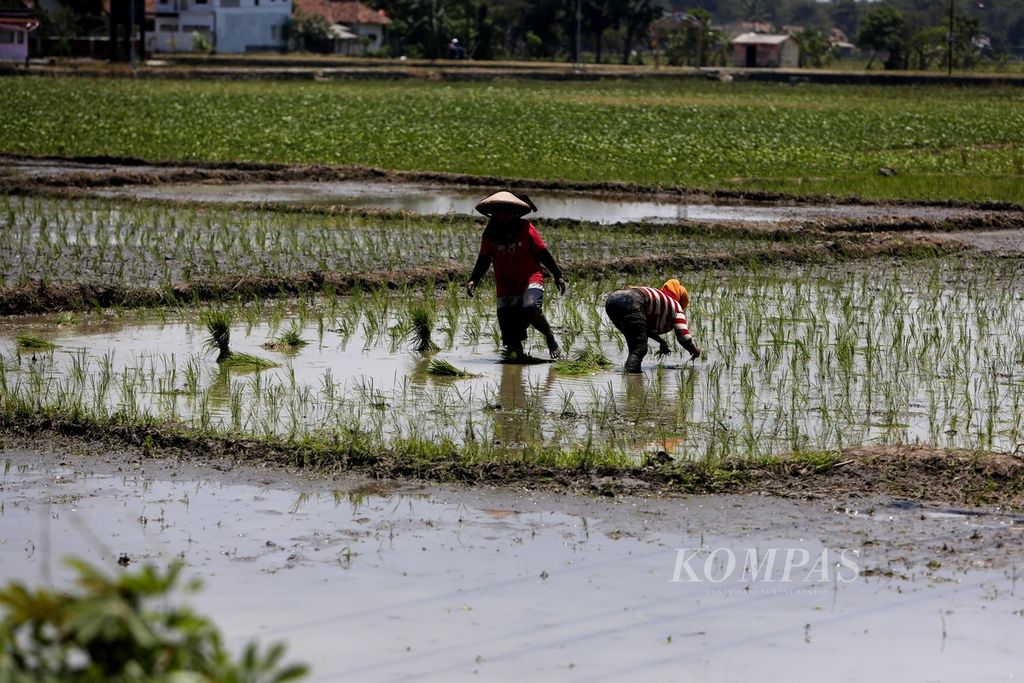 JAKARTA, KOMPAS — The government needs to optimize rice production in the first planting season which is estimated to take place in October-December 2023 to increase government rice reserves and national food security. The government and related stakeholders also need to anticipate crop failure because there are still farmers in a number of areas who plant rice in the third planting season.
On Friday (15/9/2023), water from the Kedongombo Reservoir began to be released to irrigate rice fields in the first planting season (MT). Water from the reservoir began to be released early Friday morning. The water arrived at Klambu Dam, Grobogan Regency, Central Java, on Friday morning and was immediately distributed to a number of irrigation channels to Demak, Pati, Kudus and Grobogan at 06.00.
Along the irrigation stream of Klambu Dam in the Undaan District of Kudus and Klambu District of Grobogan, several farmers are starting to prepare their pumps and water hoses to draw water from the irrigation channel to their rice fields. Some farmers are also cleaning several water gates along the irrigation channel, together with water management officers, from trash that is blocking them.
The Chairman of the Indonesian Farmers' Unity Association (HKTI) in Demak Regency, Hery Sugihartono, stated on Friday that even though water has been released, farmers cannot immediately sow rice because they have to wet and prepare the fields. The rice planting in Demak is estimated to only take place in early October 2023, so the harvest is expected to occur in December 2023 to January 2024.
"In order for MT I harvest results to be optimal, irrigation water sources during the long dry dry season due to the impact of El Nino must be managed properly. "The government and water management officials are expected to share it equally and anticipate that there will be no fight over water and sabotage," he said.
To ensure optimum results for the first harvest season, the irrigation water source during the long dry season due to the effects of El Nino must be managed well.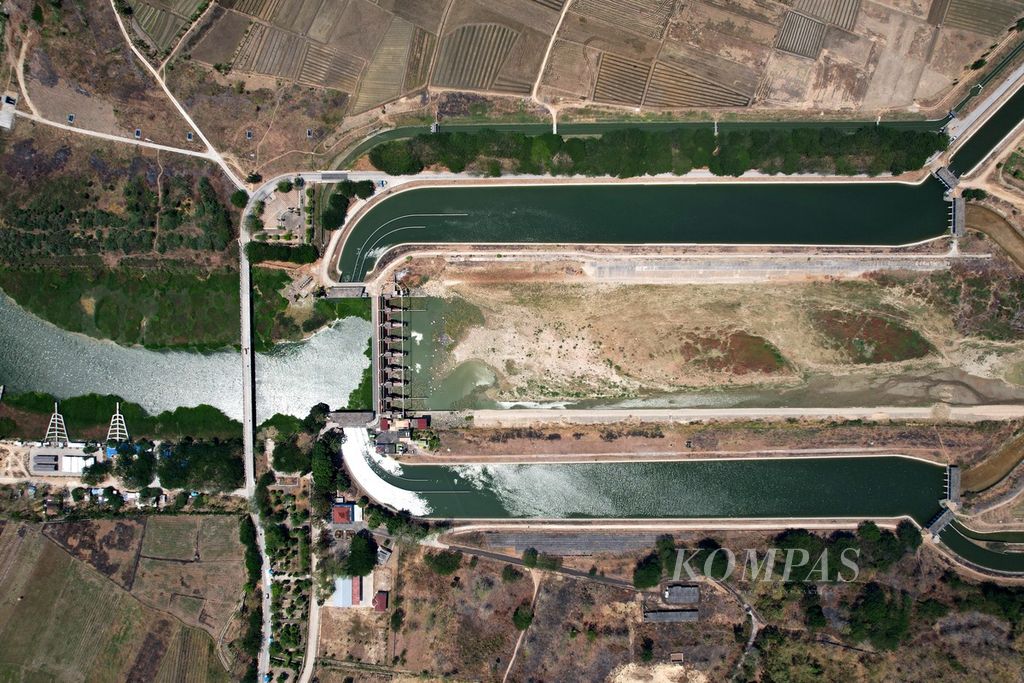 The gatekeeper of the Klambu Dam's water gate, Solikin, stated that the volume of water flowing from the Kedungombo Reservoir is 30,000 cubic meters. Meanwhile, the total volume of water discharged from the Klambu Dam is 17,743 cubic meters.
The water capacity is still low because under normal conditions the total volume that flows is 48,000 cubic meters. The release of water is the initial stage and can still be increased if farmers need it.
"We are also optimistic that the water supply will increase during the upcoming rainy season. In the past few days, some areas in Grobogan have already started to rain, even though it did not last long," he said.
For some areas in West Java, especially those in the Bendung Rentang irrigation network, dry season is expected to be observed come November 2023. The water source for this dam, which irrigates the rice fields in two districts of Majalengka covering an area of 1,094 hectares (ha), 11 districts in Cirebon with a coverage of 20,571 ha, as well as 24 districts in Indramayu covering 66,175 ha, comes from the Jatigede Reservoir.
The Coordinator of the Seed Bank and Agricultural Technology Association (AB2TI) in West Java, Masroni, stated that the first planting period (MT I) will only commence on December 1, 2023. Therefore, the harvest is estimated to occur in March-April 2024.
Also read: Harvest is still available, GKP price reaches more than IDR 7,000 per kilogram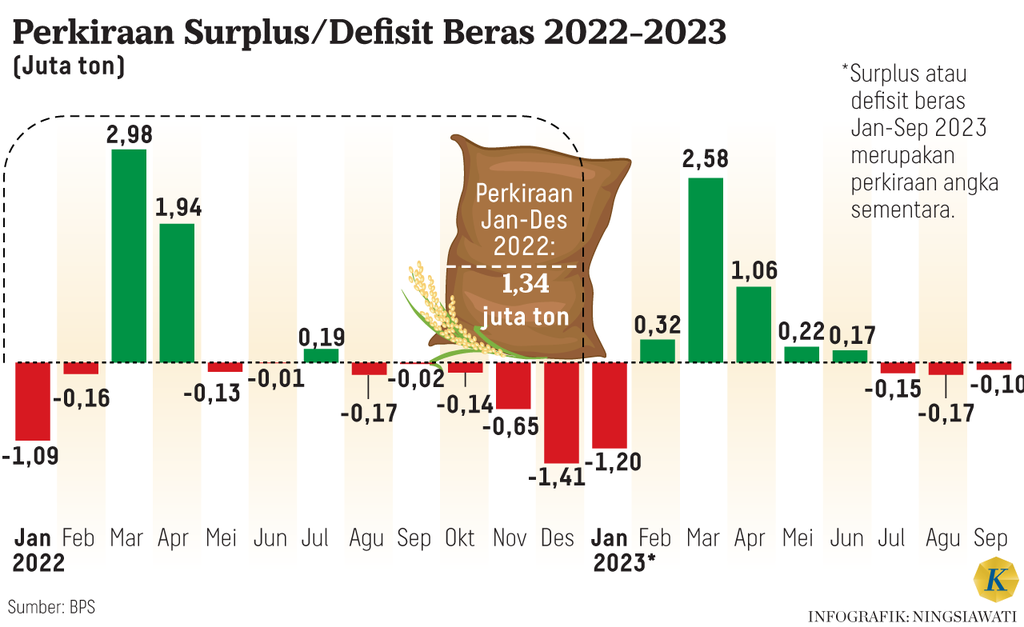 Based on data from the National Food Agency (NFA), as of early September 2023, government rice reserves (CBP) at Perum Bulog were 1.52 million tons. The rice will be reduced by 640,000 tons for the food assistance program for 21.3 million low-income families. Bulog also poured 4,500 tons of rice into the Cipinang Rice Main Market to stabilize rice prices.
The Head of NFA, Arief Prasetyo Adi stated that despite the reduction to around 800,000 tons, the government will still have CPB amounting to 1.2 million tons at the beginning of 2024. The additional CBP comes from the remaining quota of imported rice of 400,000 tons that will gradually arrive.
Anticipate crop failure
Based on Kompas's monitoring on 12-14 September 2023, there are still farmers planting rice in a number of areas in West Java and Central Java. Some of them are determined to plant rice in MT III, such as in a number of villages in Susukan and Gempol Districts, Cirebon, West Java.
In Pemalang, Pekalongan, and Sragen, Central Java, there are still many farmers who utilize water from rivers and tributaries to irrigate rice crops aged 40-60 days. Additionally, there are also farmers who have delayed planting rice in parts of Indramayu that still require water.
Also read: Puso rice plants, Indramayu farmers do not enjoy the increase in rice prices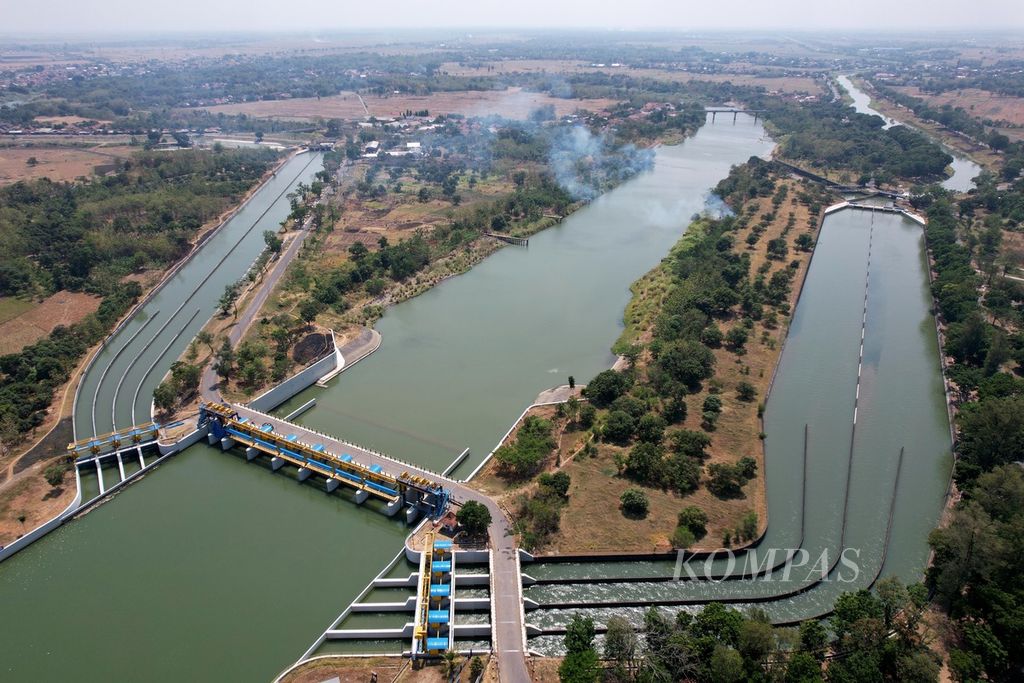 Field Coordinator of the Bendung Rentang Irrigation Management Unit, Dadi Supriadi, stated on Wednesday (13/9/2023), that there are still rice fields in several downstream and upstream areas of the Bendung Rentang that have been planted with rice. Most of these fields were planted late due to maintenance work on the irrigation network.
In addition, there are a number of farmers who do not pay attention to the water rotation pattern and recklessly plant rice. Their fields are in the third zone or farthest from the Rentang Dam, such as in Losarang and Kandanghaur districts, as well as Indramayu, and insist on planting rice.
"Finally, their rice fields did not receive water because there was a drying up of several irrigation points in order to carry out repairs in July 2023," he said.
According to Dadi, during the second planting season, representatives of farmers and dam managers agreed that only areas classified as level 1 and 2 (upstream and middle of the dam) were allowed to plant. However, there are still some who plant rice in areas classified as level 3 (downstream of the dam). To avoid crop failure, we have no choice but to distribute water to areas classified as level 3.
In addition, Bendung Rentang, particularly in SI Cipelang, must also supply water to the Cipanas and Kamun dams. In the irrigation network area of Cipanas and Kamun dams, there are still rice fields planted with 3,200 hectares and 2,000 hectares respectively.
"We also have to irrigate 1,000 hectares of rice fields that rely on pumping in Majalengka. This creates an additional burden for the Rentang Dam, which normally irrigates 36,000 hectares of rice fields, as it has to irrigate 42,200 hectares of rice fields," he said.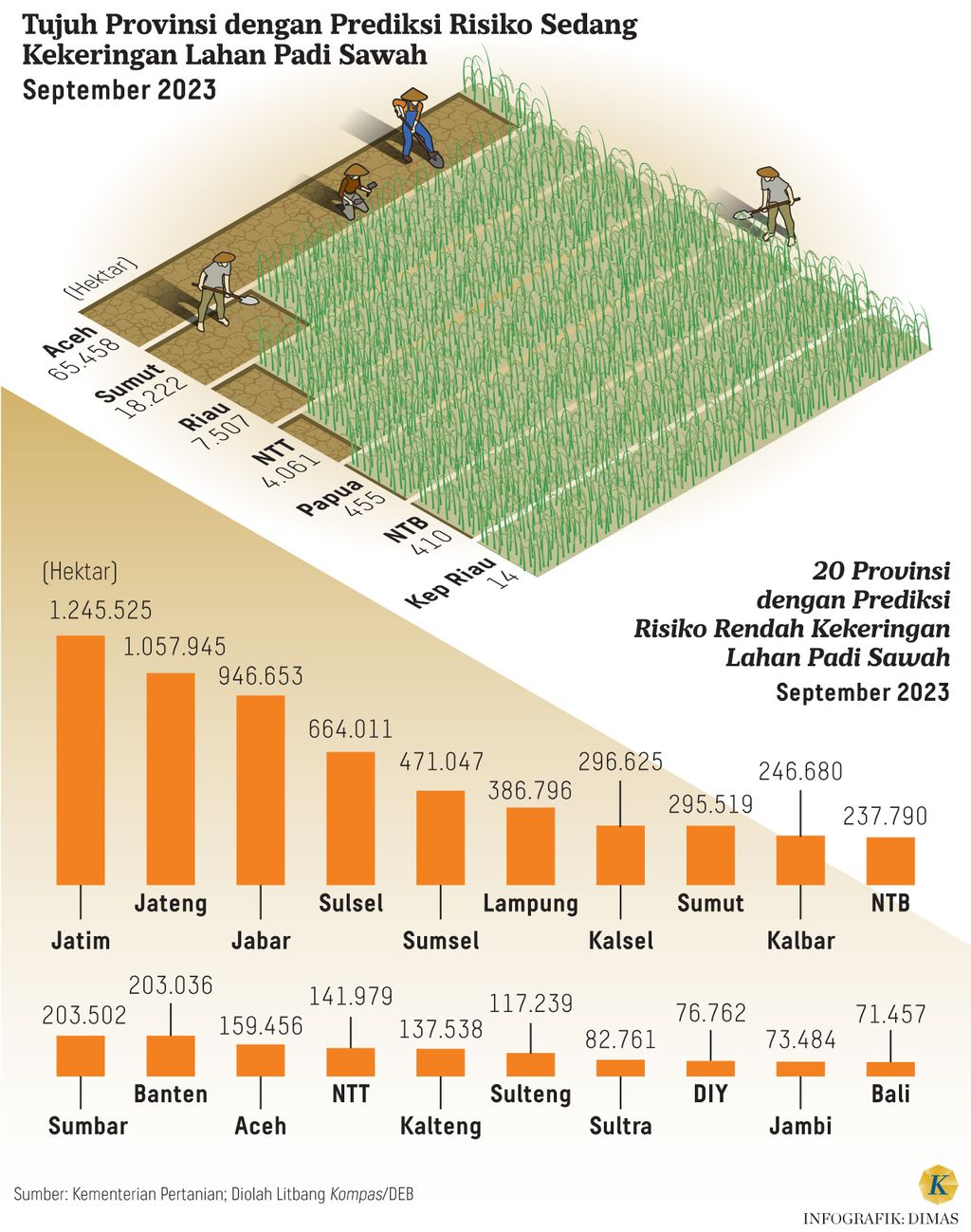 The Ministry of Agriculture stated that drought in rice fields planted in July-September 2023 is in the low and moderate categories. For the moderate category of rice field drought, for example, it is spread across 11 provinces with an area of ​​235,559 ha in July 2023. This area is equivalent to 3.36 percent of the total risk of drought in the country.
In August 2023, the area at moderate risk for paddy fields drought will expand up to 258,123 ha or 3.41 percent. There are 13 provinces that are at moderate risk for drought.
In September 2023, the area at medium risk of rice field drought decreased to 96,128 ha or 1.27 percent. There are 7 provinces predicted to have a medium risk of drought.
During the third planting season, until Saturday (16/9/2023), the area of agricultural land planted with rice reached 25,000 hectares in Sragen District, Central Java. This area is only around 60 percent compared to the normal planting area, which can reach 42,000 hectares during the previous planting season. The reduction in planting area is caused by a prolonged drought as a result of El Nino.
Head of the Department of Food Security, Agriculture, and Fisheries of Sragen Regency, Eka Rini Mumpuni, stated that this prolonged dry season has forced farmers to leave their fields uncultivated or "bero." This is due to the insufficient water supply for their fields. Additionally, local reservoirs that serve as a source of irrigation for farmers' fields have dried up.
"Currently, there are around 3,000-3,500 hectares of bero land available. There is a concern that planting on this land may result in a failed harvest," said Eka.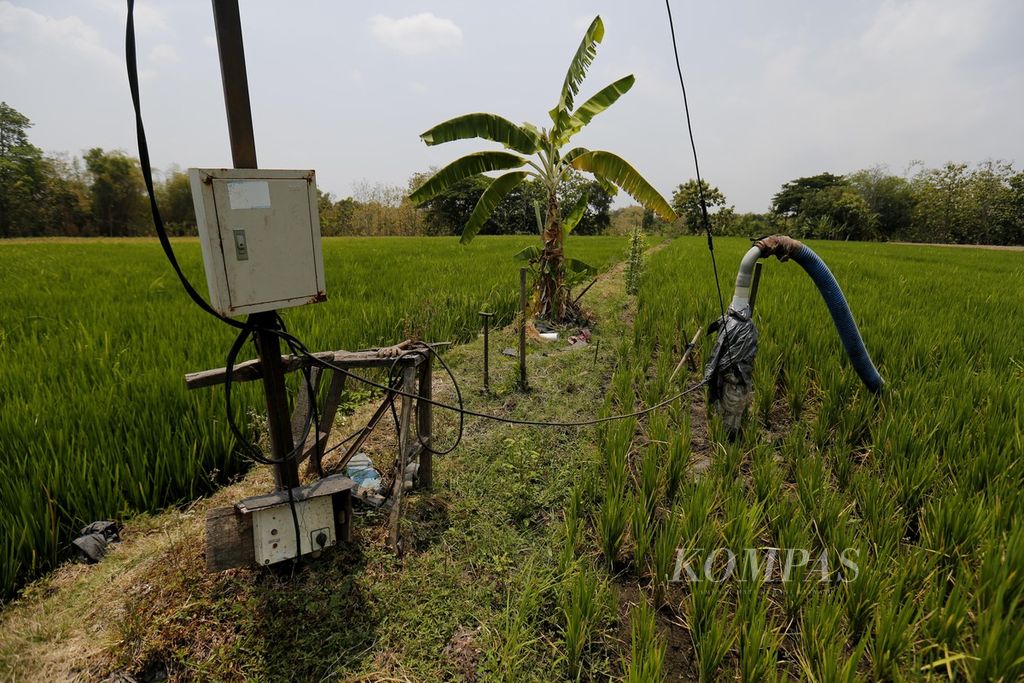 During the third planting season, said Eka, the water source was really scarce. Even so, some farmers are still brave enough to plant their crops. In fact, there are two districts which just started their cultivation, namely in the Masaran and Sidoharjo districts. The water source for their rice fields is obtained from electric-powered pump wells.
"Some people use wells. It's not enough to rely only on irrigation. So, if the irrigation stops and they have a well, they can still harvest. As long as the water is sufficient," said Eka.
Rice fields that rely on water sources from electric pump-based boreholes are common in several areas in Sragen. Some of them are located in the districts of Karangmalang, Sidoharjo, and Gemolong. In the paddy fields of these areas, electrical installations such as poles, cables, and meters are installed.
Farmers invest a large amount of capital to "transform" non-arable rice fields each MT III so that they can be cultivated. They create electrically powered deep wells to irrigate rice fields, both rainfed and those with limited irrigation water supply.
The electrical installation is connected to a water pump that is integrated with a drilled well and pipe or hose. To irrigate the rice fields, farmers only need to press a switch that is located not far from the meter or that is installed on the wall of the pump house.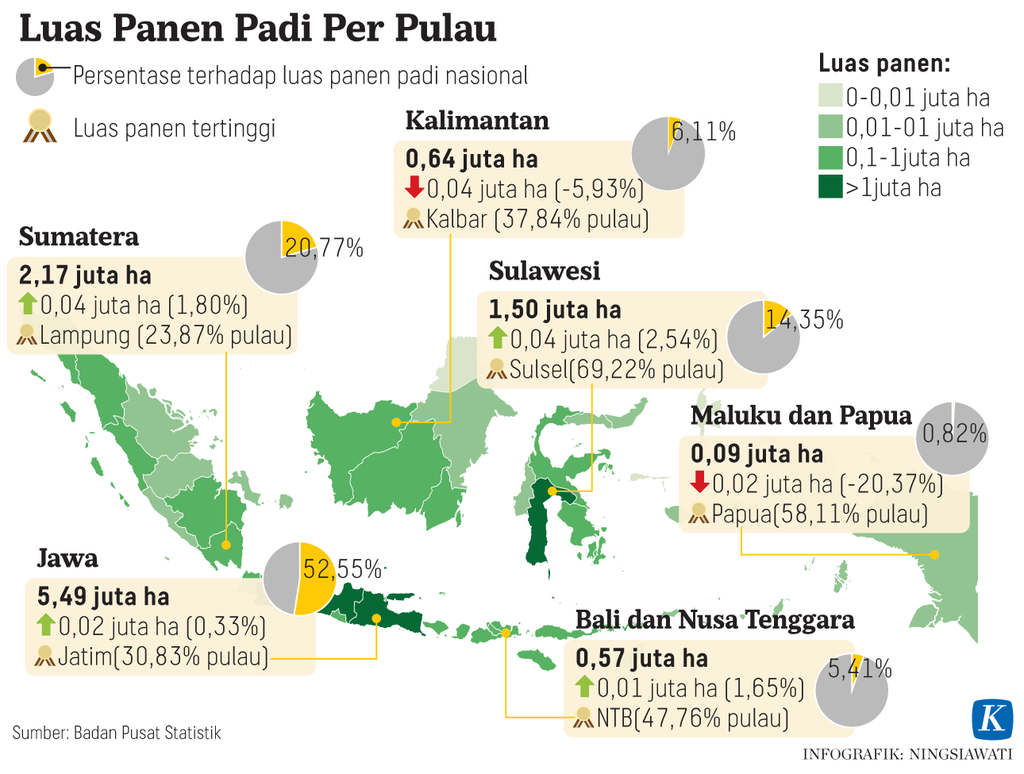 Also Read: