›
English
›
Budi Gunadi: Vaccination Is...
Budi Gunadi: Vaccination Is Not the Only Way to Overcome Pandemic
Indonesia\'s Covid-19 vaccination program will prioritize 1.4 million health workers as recipients in its initial stage. At least 181 million people must be vaccinated in order to form herd immunity.
By
ATIKA WALUJANI/DEONISIA ARLINTA/EVY RACHMAWATI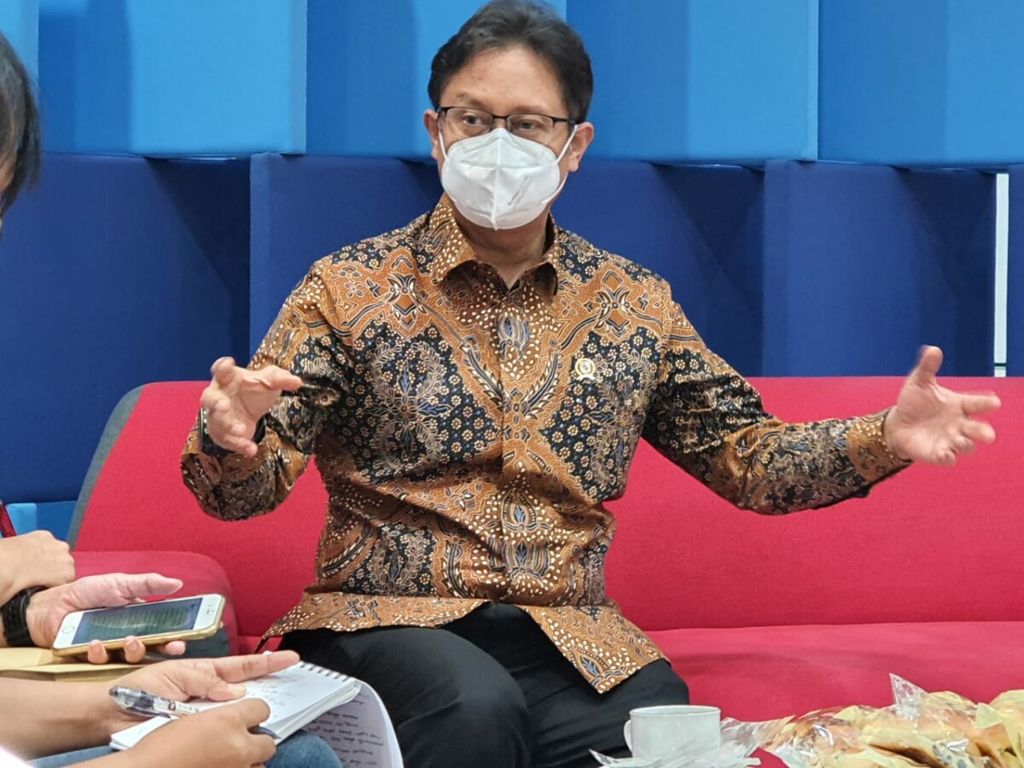 Indonesia\'s Covid-19 vaccination program will prioritize 1.4 million health workers as recipients in its initial stage. At least 181 million people must be vaccinated in order to form herd immunity.
However, vaccination is not a silver bullet to break the chain of Covid-19 transmission. Other strategies, such as strengthening testing, contact tracing and isolation, as well as discipline in implementing health protocols are more important.
Also read: The Battle against Vaccination Refusal
Budi Gunadi Sadikin, popularly referred to as BGS, who was appointed Health Minister about a month ago, said that the task to overcome the pandemic was quite difficult. The following is an excerpt from Kompas\' interview with Budi regarding the vaccination program and strategies to save people from the Covid-19 pandemic.
What is the main purpose of Covid-19 vaccination in Indonesia?
The target is to break the chain of the Covid-19 transmission by creating herd immunity. However, that is achieved if at least 70 percent of our population is vaccinated. It is often forgotten by many people that the vaccination protects not only oneself, but also other people, all Indonesians, and the whole world. The vaccination is socialist, not individualist.
Can the vaccination end a pandemic?
Also read: Covid-19 Vaccine Euphoria Deemed Dangerous
Everywhere, the vaccination to control a pandemic takes a long time. It will take a long time to vaccinate 70 percent of the world\'s population. Vaccination is not the only way to beat the pandemic. Therefore, preventive and promotional efforts must be carried out.
How to communicate with other stakeholders and the community regarding this?
The information must be conveyed slowly that the vaccination must be accompanied by improvements in the public health system. We must be disciplined in wearing masks, washing hands and keeping distance with others. On the other hand, we have to improve 3T (testing, tracing, treatment) and surveillance.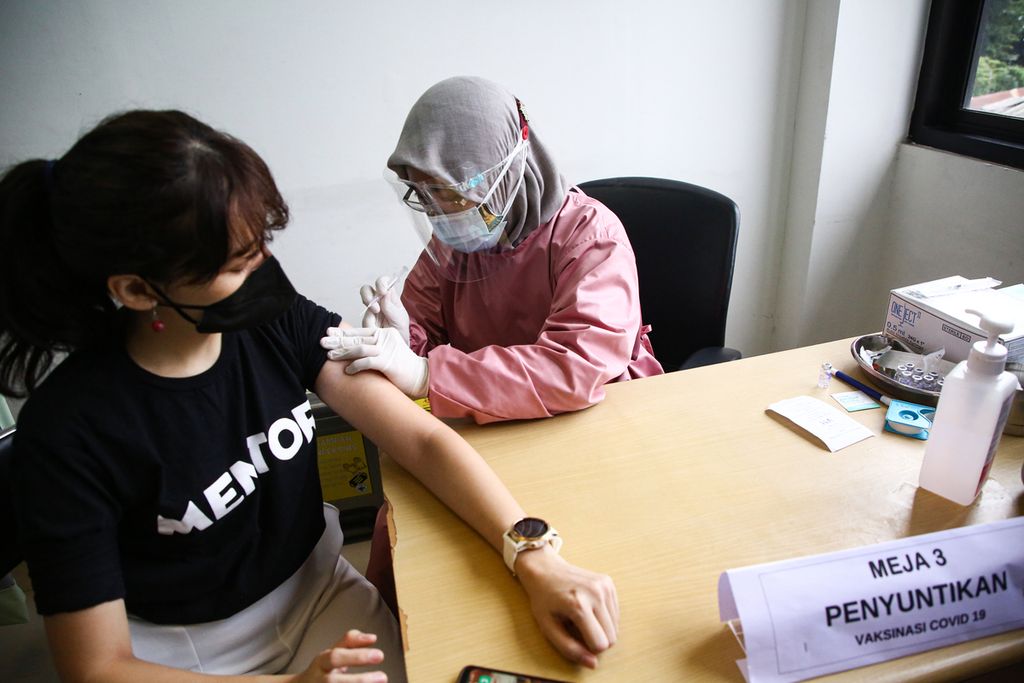 Regarding the optimal 3T efforts, how to fix it?
About testing, the World Health Organization (WHO) is targeting 1 per 1,000 populations per week. If the population in Indonesia is 269 million, it means that 269,000 people need to be tested per week or around 40,000 people per day. We have reached that amount. Our testing capacity also has increased to 70,000 tests per day.
However, testing remains a problem because the 40,000 figure was the aggregated number. In big cities, one person can be tested several times, while in some areas, tests cannot not be carried out. We have to fix it so that the testing can be evenly distributed.
We also need to improve strategy. Testing should be based on case tracing. If there are people suspected or those who had close contact with infected people, they should be tested. We will try to exclude independent testing, such those required for travelling from the published reports. So, the testing rate is according to epidemiological principles.
Also read: New Hope from the Merdeka Palace
How to strengthen promotional and preventive efforts in handling pandemics?
The Health Ministry has been assigned as the agency to lead the handling the pandemic. However, the vanguard against the pandemic is the whole society. We are trying to improve the awareness of the people by building a movement, one of which is by strengthening the role of the Puskesmas (community health centers). We also need to strengthen cooperation between sectors. This is a challenge.
The government is targeting vaccinations to be completed in 15 months. What strategies have you prepared?
From our calculations, each clinic can vaccinate about 100 people per day and hospitals 300 people per day. This means, 24 million people can be vaccinated in a month. So in a year we can vaccinate 144 million people.
UNICEF assures us that we are capable of vaccinating up to 40 million per month because Puskesmas and Posyandu (neighborhood health units) have extensive networks. We are also preparing 30,000 vaccinators, each of which can inject 300 people per day, so that 27 million people can receive the Covid-19 vaccine in a month.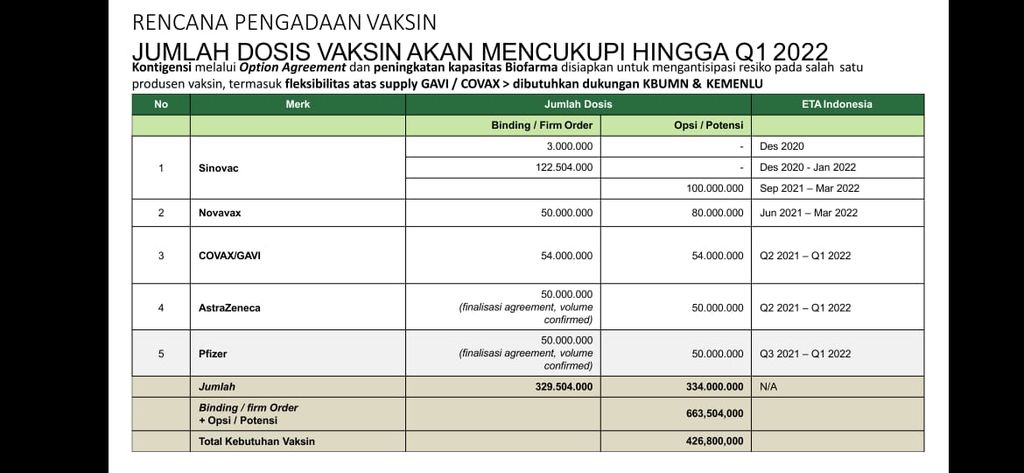 The problem is not with the vaccination process, but the availability of vaccines. We estimate the vaccine needs can be met in 15 months. We are negotiating so that vaccine producers can deliver vaccines more quickly. The most important thing is that the vaccines, regardless of the brand, will be given for free to the public.
How is it distributed and stored? For example, the Pfizer vaccine must be stored at minus 70 degrees Celsius?
It needs to be fixed. The number (cold chain facility) is still an obstacle. We haven\'t had an experience of conducting such a quick vaccinations program. On the other hand, immunization programs for children could not stop so that the capacity (cold chain facilities) needs five times as much.
Also read: Ensure the Efficacy of COVID-19 Vaccination Drive
Regarding vaccines from Pfizer, we have asked that Pfizer also take care of the storage facilities. We want the price of the vaccine to include delivery costs. However, the vaccine can be delivered only to areas which have an airport. So, it cannot be sent to all Puskesmas, but it can reach outside Java.
Is there a plan to expand the target of vaccine recipients?
The vaccination of the 181 million people who are targeted to receive the vaccine, according to our calculation, can reach efficacy of 60 percent. So, it can be to achieve herd immunity. The number has already taken into account the addition of cases or a high reproduction rate. Residents need to understand that the 65.3 percent efficacy can still reduce the number of new cases. Most importantly, the vaccines are safe and approved by the Food and Drug Monitoring Agency (BPOM)
With the high transmission rate, will the benefits of the vaccines be optimal?
Ideally, vaccination is carried out when the positive case curve is descending. However, at present, the number of people who die because of Covid-19 has increased to 300 people per day. Should this be postponed? So, I chose to do the vaccination first, no need to wait for the curve to go down.
Also read: Transmission Control Determines Vaccination Success
A survey conducted by the R and D department of Kompas indicated that many people did not believe in vaccines, especially in the middle to lower class. How to solve it?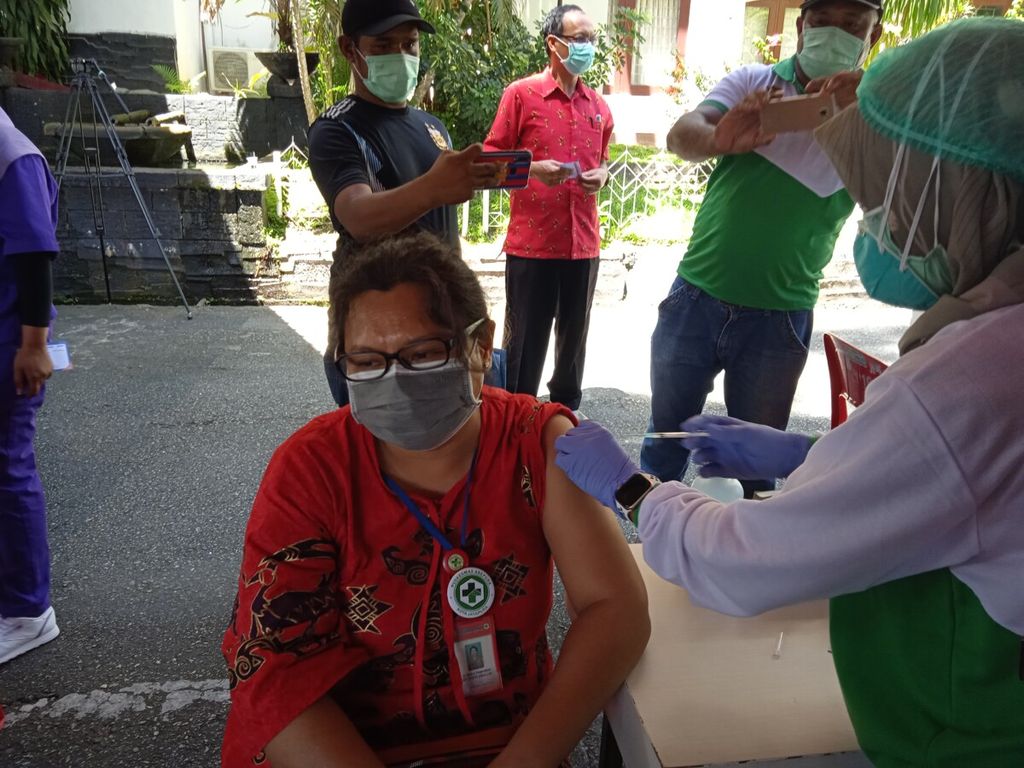 We need to ensure that anyone who refuses can be approached personally. There are three criteria for rejecting vaccines, namely those who do not know, those who are difficult to receive explanation but can accept, and those who do not want to know. Our job is to communicate to groups who don\'t know and who are difficult to receive the explanation.
We also campaign to various communities regarding vaccination. We hope that vaccination will become a collective movement so that there is a sense of belonging in every community.
Also read: The Hardest Step When the Cases Increase Rapidly
How to communicate to the public regarding vaccinations and health protocols?
One of them is through various media. We can\'t possibly solve a pandemic on our own. We need to reach out to many people because some don\'t trust in the Health Ministry. So, we need to increase the people's trust.
Do you anticipate facing the virus mutation that causes Covid-19?
We are starting to build a network of "intelligent infrastructure" to detect mutated viruses through whole genome sequencing.
We can\'t possibly solve a pandemic on our own.
There are only 12 laboratories with this capability, so it is necessary to collaborate with universities and research institutions.
Has the vaccination program weakened adherence to health protocols?
This vaccination must begin first so that all stakeholders believe we can work. Along with that, we will ensure that we want to solve this pandemic.
Apart from vaccines, we also have to push for the implementation of 3T ( testing, contact tracing and treatment) and 3M ( wearing mask, washing hands and keeping a distance) health protocols. Four strategies must be implemented, as directed by WHO, namely diagnosis by testing, tracing and isolation. Then the capacity of hospitals in treating patients.
Public health systems such as adherence to health protocols are needed, then the vaccination. China has proven it. So vaccination is not the only way to break the chain of Covid-19 transmission. Our job is to prepare the health infrastructure, including the virus intelligence infrastructure. This is essential to deal with the current pandemic as well as the one that may come which can be more violent.
This article was translated by Hendarsyah Tarmizi.