›
English
›
Guardians of the Semarang...
Guardians of the Semarang Coast
In the late 1990s, large-scale pond openings triggered abrasion on the northern coast of Semarang city. Reluctant to stand idle, Sururi (62) struggled to fortify the coast with mangroves.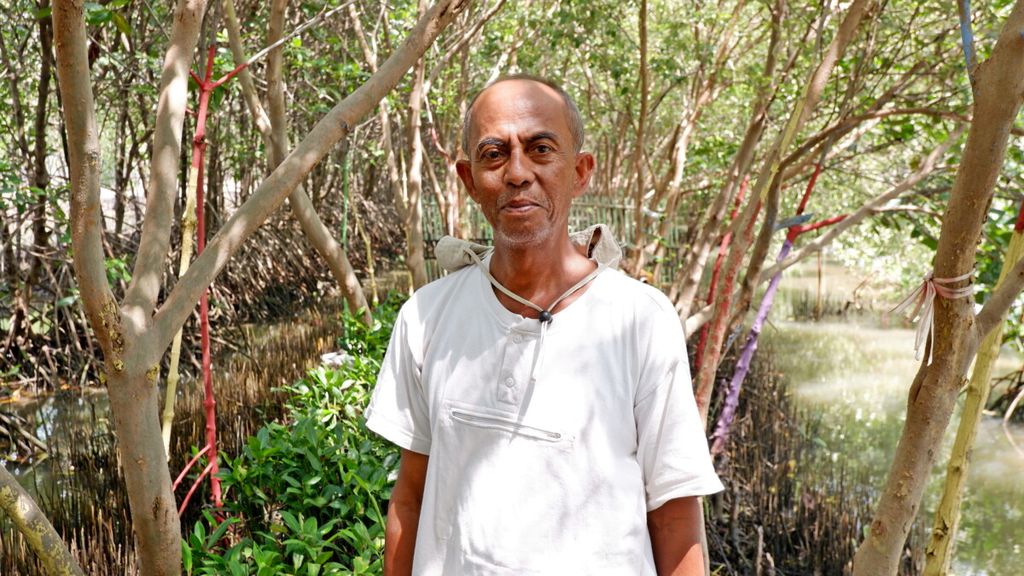 In the late 1990s, large-scale pond openings triggered abrasion on the northern coast of Semarang city. However, when the tides overtook the ponds, the cultivators left behind a destroyed environment. Reluctant to stand idle, Sururi (62) struggled to fortify the coast with mangroves.
Initially, Semarang city's west coast in Mangunharjo village, Tugu district was packed with mangroves. However, along with rampant extensification of ponds for tiger prawn cultivation, mangroves have been cleared for ponds. People are often tempted to profit without considering the future of the environment.
Sururi was greatly affected by this, as he lost his farming pond due to abrasion. He then went to Malaysia to become a migrant worker (TKI) but eventually returned to Indonesia because he felt he was not up to the task.
If I didn't do something right away, will my family be saved? If my house sinks, where should I go?
In 1997, Sururi grew anxious. At that time, abrasion had caused hundreds of meters of land to disappear. The distance from Sururi's house to the sea had reduced from the previous 1.5 kilometers, to only 600 meters.
"At that time, I thought, if I didn't do something right away, will my family be saved? If my house sinks, where should I go?" recalled Sururi, when we met at his house, Friday (25/09/2020).
Also read: Faithfully Nurturing the Seeds of Tolerance
It was only natural for Sururi to be concerned as abrasion had drowned several ponds and settlements in Sayung district, Demang regency. Sururi didn't want something similar to occur in Mangunharjo.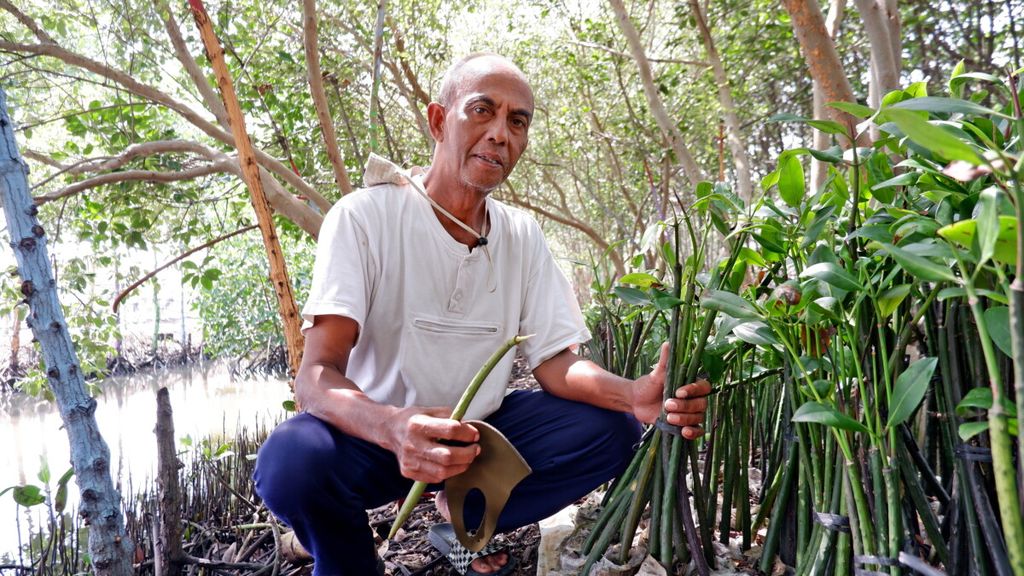 Choosing to save the coastal area was a move mocked by his fellow pond cultivators, who had chosen to become fishermen, ojek (motorcycle taxi) drivers, construction workers and factory workers after losing their ponds.
Gradually, since 1997, Sururi has been planning mangroves. Once he met Sudharto P. Hadi, an environmental expert from Diponegoro University (UNDIP), Sururi was then guided in his mangrove planting.
In 2000, Sururi started a mangrove nursery. "Even though we lacked funds, we just said bismillah. At that time, I also spent the night looking for crabs for my family," he said.
Also read: A Dream of the Son of a Fisherman
The nursery, which he managed on leased land, only began to run smoothly in 2004. Previously, he had to retrieve seedlings from Brebes to Rembang. Sururi planted mangroves along the coastal belt constructed by the government. The mangroves he planted grew thicker in 2006.
Through the Subur Makmur Farmers Group that he founded with his colleagues, conservation efforts became truly optimal in 2007. This also included support from a number of private companies that helped plant mangroves through their corporate social responsibility (CSR) programs.
Sururi did not deny that his nursery business relied on the CSR of companies to purchase the seeds for planting. Since 2007, in addition to partner companies, more and more companies, students and researchers, including those from abroad, have come to Mangunharjo.
Also read: Living Prosperously through Seaweed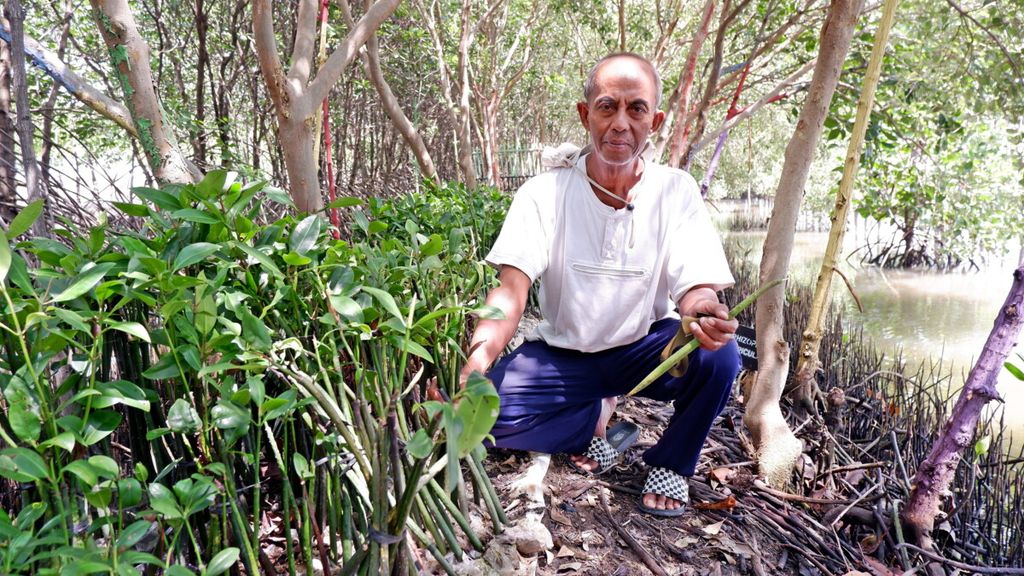 The mangrove nursery business also supports Sururi and his colleagues. "With their visits, someone buys my seeds. That is where I get my income. Before the COVID-19 pandemic, I made 75,000-100,000 seedlings a year because I had to meet the demands of companies that planted the seeds," he said.
Now, Sururi provides Rhizophora and Bruguiera mangrove seedlings. Previously, Avicennia seeds were also available but Sururi stopped selling them due to low demand.
Sururi sold the seeds for Rp 1,200 per stem for students or the public and Rp 1,500 for companies. Each company buys at least 2,000 seedlings to plant. By 2015, Sururi formed the Mangrove Lestari Group, consisting mostly of family members. A total of 11 people in his group produced the seeds and planted mangroves.
The fortress is formed
Sururi' s efforts have finally paid off. Up till now, from millions of planted seeds, a natural mangrove forest has been re-formed with an area of about 70 hectares. The height of the plants vary, with some even reaching 6 meters tall.
"Thank God, the distance from my house to the beach is now 1 kilometer, compared to the previous 600 meters. The coastal belt that was formed the government used to be damaged, but the mangroves are now strong," said Sururi.
Also read: Relationships in a Cup of Coffee
The thickened mangrove can now withstand the rate of abrasion in at least three urban villages, namely Mangkang Kulon, Mangunharjo and Mangkang Wetan. Moreover, a number of fishermen now do not have to go too far to find their cath. Around the mangrove forest, they can now look for fish, shrimp and crabs. In fact, since 2016, a number of Mangunharjo residents have been cultivating green clams.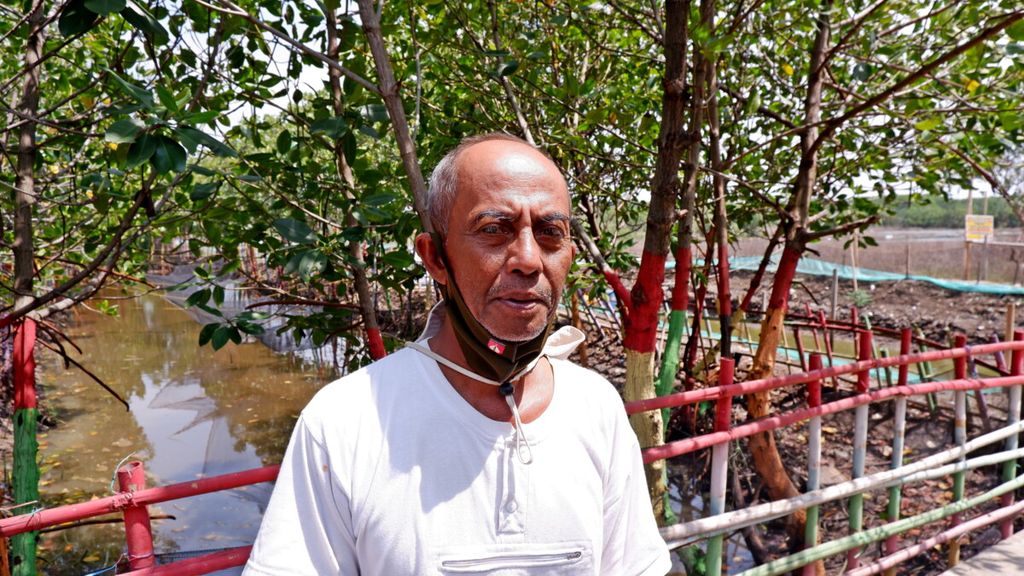 Along the way, with an increasing number of orders for mangroves, Suriri is often referenced for mangrove nurseries in Semarang. Unsurprisingly, in the living room of this modest house, dozens of plaques and award certificates from various agencies are lined up. Some of the awards were framed, such as the 2008 Semarang Mayor Award and the 2009 UNDIP Award.
Sururi added that even though he is well-known by many companies and agencies, he did not intend to seek profit outside his business corridor. His income is fully earned from the nursery, whereby appreciation and value come as their own.
For me, the more is planted, the more it can inhibit abrasion. That's all
The most memorable award he received was leaving for umrah (minor haj) with his wife in 2017. "There was a lecturer who was just so grateful he financed an umrah for one person. Less than half a month later, there were companies doing the same thing and so, we were able to go together," he said.
These various forms of recognition and appreciation did not wear off Sururi's main commitment. "For me, the more is planted, the more it can inhibit abrasion. That's all," said Sururi.
Also read: Making Farming 'Go Viral'
Looking back, Sururi's expertise in mangroves and their nurseries was self-learned and bolstered by attending two training sessions. From the training, he was able to learn various mangrove species and various kinds of treatments, depending on the type.
Even so, he admitted that he was not able to come this far without the guidance of Soedharto P Hadi, who served as UNDIP's rector from 2010 to 2014. Since the beginning and until now, Sururi often discussed matters related to mangrove nurseries and planting with Soedharto.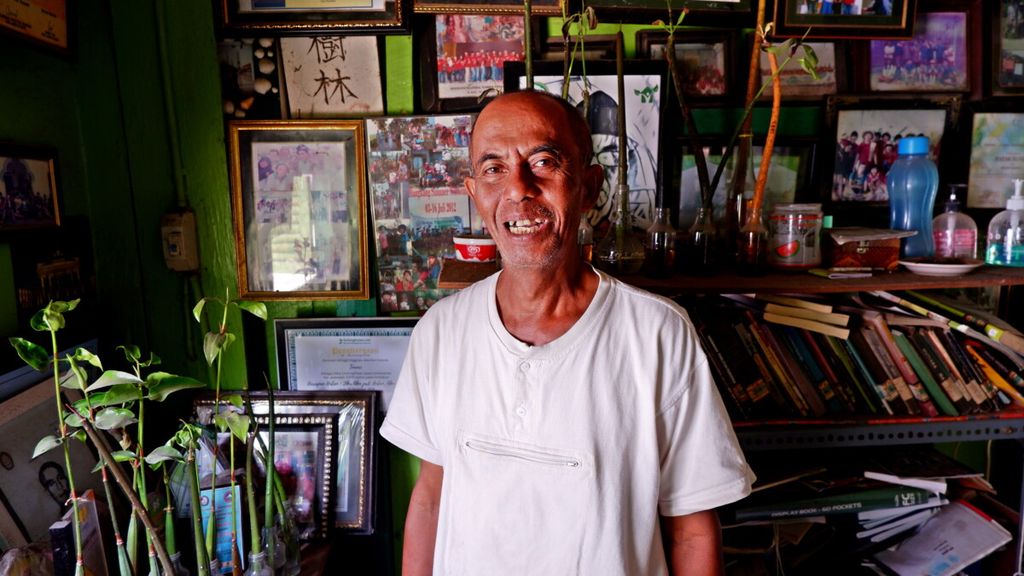 Soedharto also encouraged Sururi to think about the education of his children. As a result, from the income of selling seeds for years alone, Sururi was able to send four of this six children to university, with some even going on to obtain master's degrees. Meanwhile, two more of children are currently studying their undergraduate degrees.
Challenges
Developing seeds and planting mangroves is not without obstacles. Even though many parties now plant mangroves, these plants cannot just be left to grow on their own.
"A mangrove's survival is 50 percent. With constant care and tending, it can be 60 percent. So, this tending becomes a challenge because it requires perseverance and energy too," said Sururi.
In addition, amid the COVID-19 pandemic, demand for seeds have also decreased, especially from students and researchers from abroad, such as China, Hong Kong and South Korea. Sururi is amongst the many who hopes that everything can soon return to normal.
Also read: A Factory of "Hydroganic" Dreams
In the future, Sururi hopes that mangroves in Mangunharjo will be further developed. Moreover, an ecosystem as actually been formed. Currently, a number of residents, especially women, are developing mangrove batik and processed foods from shrimp.
"For me, the economy must be boosted. At a minimum, there should be ecotourism here for the economy to continue to grow. Of course, we need support from various parties to make that happen," he said.
Sururi
Born: 17 July, 1958
Wife: Nurchayati
Children: 6
Education: Madrasah Ibtidaiyah Mangunharjo, graduated 1971
Organizations:
- Subur Makmur Farmers Group (2004 – present)
- Mangrove Lestari Group (2015 – present)
Awards:
- 2008 Semarang Mayor Award for Conservation of Mangrove Greening
- 2009 UNDP Award for the category of Coastal Area Environmental Conservation
- 2nd Winner of Adibakti Mina Bahari in the coastal marine and small islands sector at the National Level 2009 (for the Subur Makmur Farmers Group)
- 2018 Grouper Award for aquatic resources from the UNDIP Fisheries Alumni Family