Analyzing Recession
Even without the revision down, Indonesia has technically entered a recession because it has suffered economic contraction for two consecutive quarters.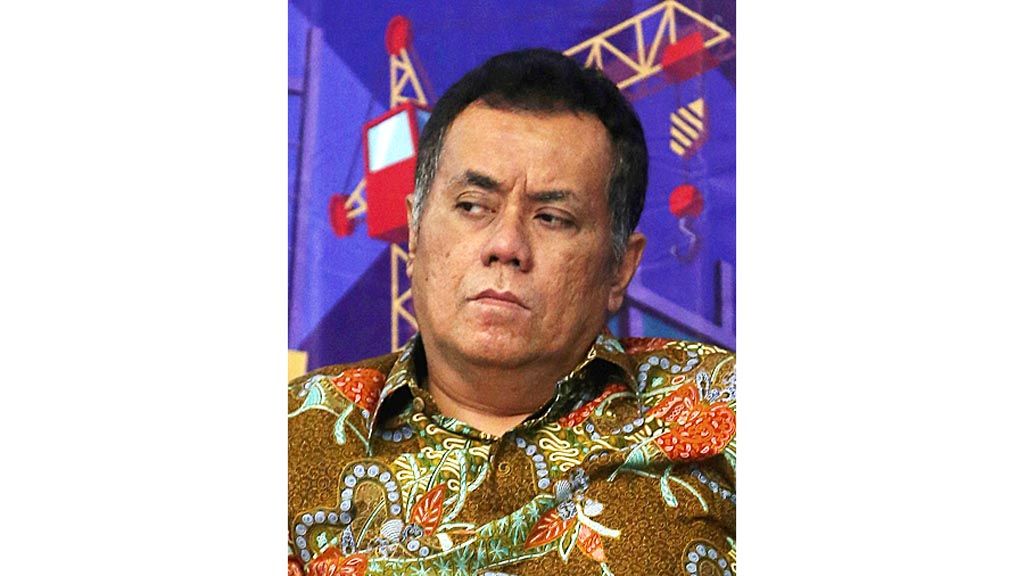 The government has lowered its economic growth target for the third quarter of 2020 to minus 2.9 percent from its earlier projection of minus 2.1 percent. Even without the revision down, Indonesia has technically entered a recession because it has suffered economic contraction for two consecutive quarters.
Several countries have imposed strict regional quarantines on the hope of achieving fast recovery in a V-shaped curve. In fact, following first-quarter negative growth, even deeper contraction occurred in the second quarter of 2020.
To illustrate, the European Union (EU) began slipping into a recession in the first quarter. Its economic contraction worsened from minus 3.2 percent in the first quarter to minus 11.7 percent in the second quarter. Its hopes for a V-shaped recovery curve failed to materialize.
With a second wave of Covid-19 infection occurring in the EU and the United States (US) and the possibility of imposing regional quarantine for a second time in the EU, the recession could be a U- or even an L-shaped curve. The reason is that community mobility has practically stopped as a result of the pandemic.
Also read: The Economics of Vaccine
This mobility is the main driver of the service sector, including small businesses, which is the mainstay of growth. Only one country, China, has recorded a V-shaped recovery curve in the quarter succeeding a contraction, thus preventing it from descending into a recession. Following contraction of 6.2 percent in the second quarter, China recorded positive growth in the third quarter. This was not happenstance. After it lifted the nationwide lockdown, China provided various stimulus facilities to support economic growth.
One of these was a US$1,400 subsidy for its citizens to buy new energy vehicles (NEVs). China\'s automotive industry has a small proportion of foreign imports because its domestic market produces a sufficient amount of automotive parts and components. The industry also has a significant impact on economic growth because about 40 million people work in the automotive supply chain. This explains why China\'s Purchasing Manager's Index (PMI) is recovering faster than that of other countries. The PMI shows the growth trend in the manufacturing and service sectors. A PMI above 50 represents growth.
Also read: 75 Years of RI, Three Countries Perspective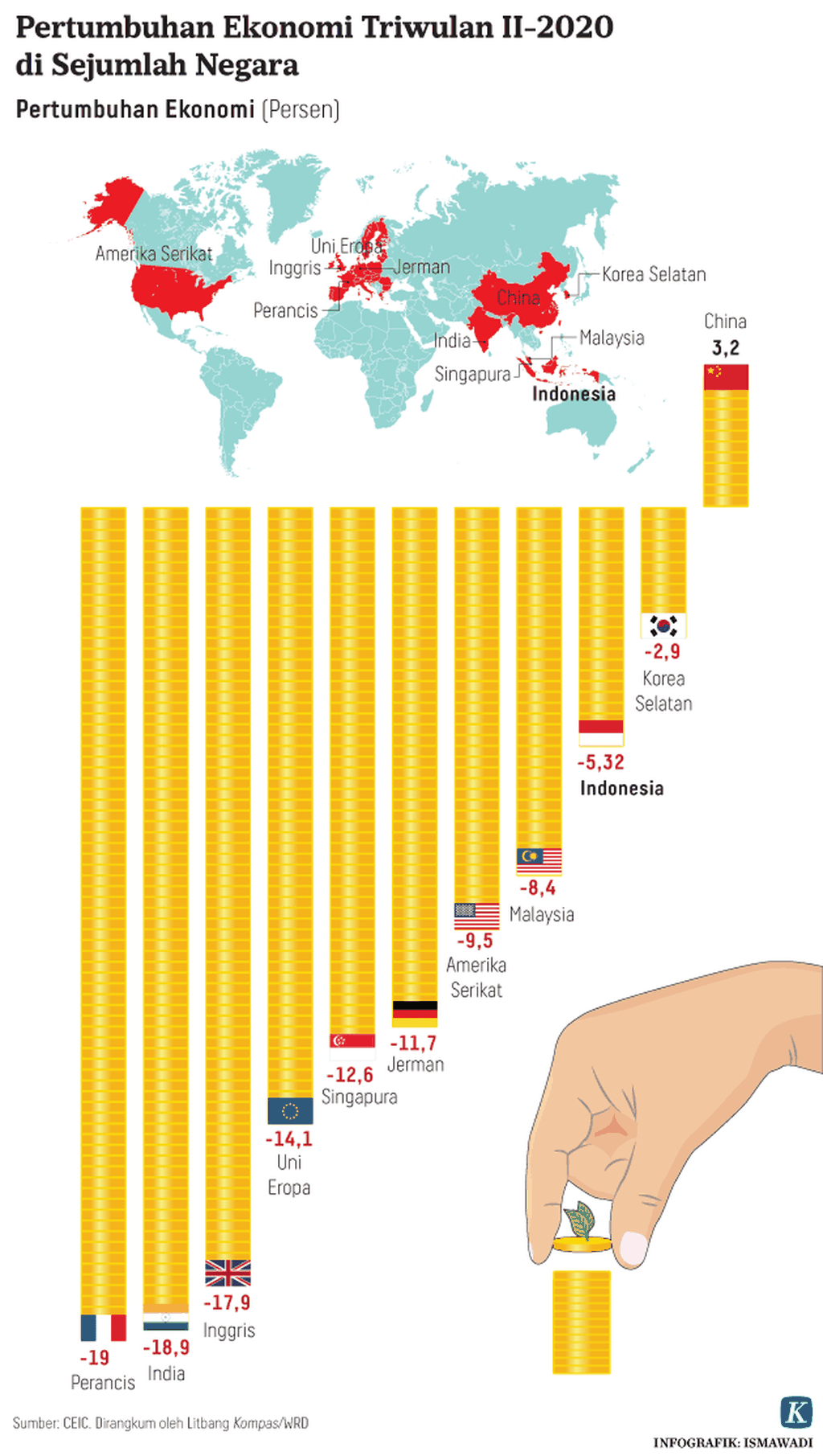 New patterns
Although Statistics Indonesia (BPS) has not issued third-quarter data on gross domestic product (GDP), the government is projecting that the country will enter a recession.
Differences exist between the experiences of the EU, the US and China. The EU and the US suffered deep contractions over two consecutive quarters, while China returned to positive growth just one quarter following a contraction. Indonesia has entered a recession according to government estimates, but has been able to avoid deeper contraction in the third quarter.
Also read: Direction of the 2021 State Budget
Several main factors lie behind these developments. The first is that consumer confidence declined, as evident in the fall in May to 77.8 on the Bank Indonesia Consumer Confidence Index (CCI). As the large-scale social restrictions (PSBB) were relaxed, the CCI improved to 86.9 in August. However, the May-August increase in the index was relatively small with a rise of only 11.7 percentage points, or a per month increase of 3.74 percentage points. This was because expectations for income, jobs and future business activities were not as high as in the previous month, although they were still relatively optimistic.
The second factor was the improved durable goods index, which rose slightly from 66 in June to 68.5 in July, and then to 71.8 in August. This resulted in a significant increase in Indonesia\'s PMI into the growth range to 50.8 in August from 46.9 in July. This was good news for the manufacturing industry.
During the 1998 financial crisis, economic sectors such as trade and the hotel and restaurant sectors recovered faster than the manufacturing sector to have a significant impact on the economy. Today, as the trade, hotel and restaurant and tourism sectors remain stagnant, their activities are only able to mitigate contraction and are not strong enough to push the economy into positive growth.
Also read : Speed of Recovery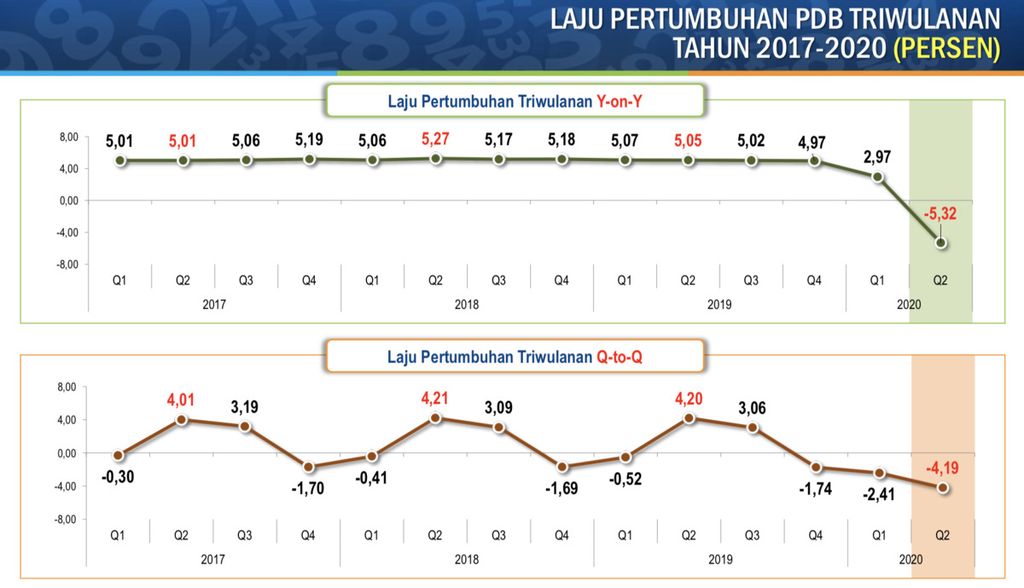 During the current crisis created by the Covid-19 pandemic, the patterns of household consumption are different from 1998. People prefer to spend on durable goods like household items and appliances, rather than on travel or dining out. For relaxation and recreation, people instead prefer short trips or simply cycling and jogging on weekends.
Bank Indonesia's latest CCI survey shows that people in groups earning incomes of Rp 5 million ($345) and above and have a bachelor\'s degree tend to be more pessimistic compared to other income groups. This affects general consumption. Although frugality is typical amidst uncertainty, it hinders recovery, according to the concept of the paradox of thrift. Income is locked in the middle class in big cities in Indonesia, as is evident in the increase in individual savings at banks. In July 2020, bank deposits increased by Rp 313 trillion, or 6.12 percent, from the end of 2019. To compare, deposits in July 2019 increased by just Rp 197 trillion, or 3.45 percent, from the end of 2018. Perceptions of public health have greatly affected public consumption, especially among the upper middle class.
Also read : Economy in Post-Pandemic Era
To break this deadlock, the Transportation Ministry has teamed up with several of the country's leading universities to discover a safe and healthy mode of transportation that could help prevent the spread of Covid-19. However, these efforts will be inadequate without strict implementation of the "3M" health protocol of "masker, menjaga jarak, mencuci tangan dengan sabun" (mask, maintain safe distance, and hand washing with soap). This may need to be maintained as a routine habit even after mass immunization.
Overall, if public perceptions on health and consumption behavior remain as they are today, the V- or U-shaped recovery curve will not be realized. Instead, recovery will take the shape of a check mark or the mathematical symbol for the square root, with an elongated, gradual incline leading to a plateau.
Economic growth will continue to improve in the fourth quarter, but it may still be in the negative range. Whether the national economic recovery (PEN) program can accelerate fund disbursements will determine if the economy can attain positive growth.
ARI KUNCORO, Rector of the University of Indonesia.