›
English
›
Relationships in a Cup of...
Relationships in a Cup of Coffee
For Yudha Indraswara, a warkop is not just a place for drinking coffee, but also a social space where people can interact freely in open discussions.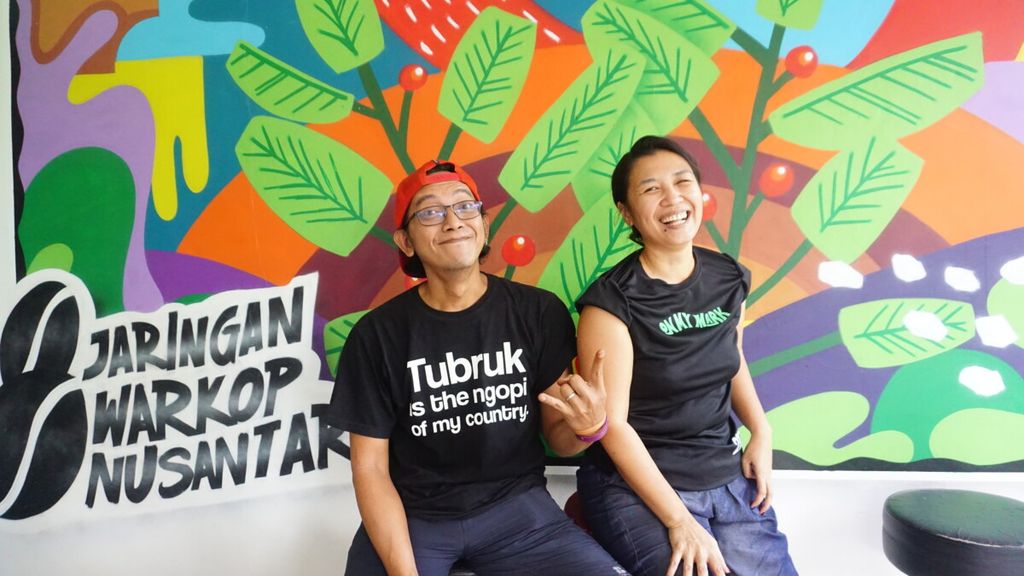 The future is in warkop (coffee stalls). It is what Setya Yudha Indraswara believes. For him, a warkop is not just a place for drinking coffee, but also a social space where people can interact freely in open discussions. Now, imagine if this social space grows and blooms. The barriers of separation will come falling down on their own.
Every day, people go in and out of the Warkop Nusantara Network (JWN) "headquarters" in the Nuri Bintaro housing complex in Ciputat, South Tangerang, Banten. On Thursday (3/9/2020), one young person was seen leaving the JWN while eight people arrived.
"Young people are interested in learning about coffee. It seems some of them are visiting for the first time," Setya, who goes by the nickname "Ulil", said on Thursday (3/9) at JWN headquarters, which is also home to the Joyo99 coffee shop. The building is divided into two sections, an inside and an outside area. Inside is the Joyo99 coffee shop, while outside is a large terrace that is used as a venue for various activities.
Also read: Coffee for Inmates
Ulil cannot recall how many people have come to see him since the JWN was founded in 2016. What is clear is that around 15 people come to visit him every day.
At first, the visitors were mostly retirees who were interested in the coffee business. Later, the demographic shifted, and it was mostly young people who came. Some were high school graduates who were not pursuing higher education, but did not have the skills to enter the job market. They decided to choose to tread the "coffee path" to their future. After gaining new skills at the JWN, some sought work at the coffee shops that were sprouting everywhere. Others went on to set up their own warkop.
Ulil receives anyone who visits. He shares his knowledge about coffee, starting from how coffee is cultivated at coffee farms, how the berries are harvested, how the beans are roasted, and on through the flavors of varying types of coffee. He also talks about the coffee farmers' hard lives, which are not as pleasing as the coffee they grow.
Also read: Coffee Shops Start a New Life
"My hope is that [the youth] know not just how to brew coffee, but can also appreciate each step in the coffee production process until it becomes part of what they serve," said Ulil, one of whose relatives by marriage is a coffee farmer.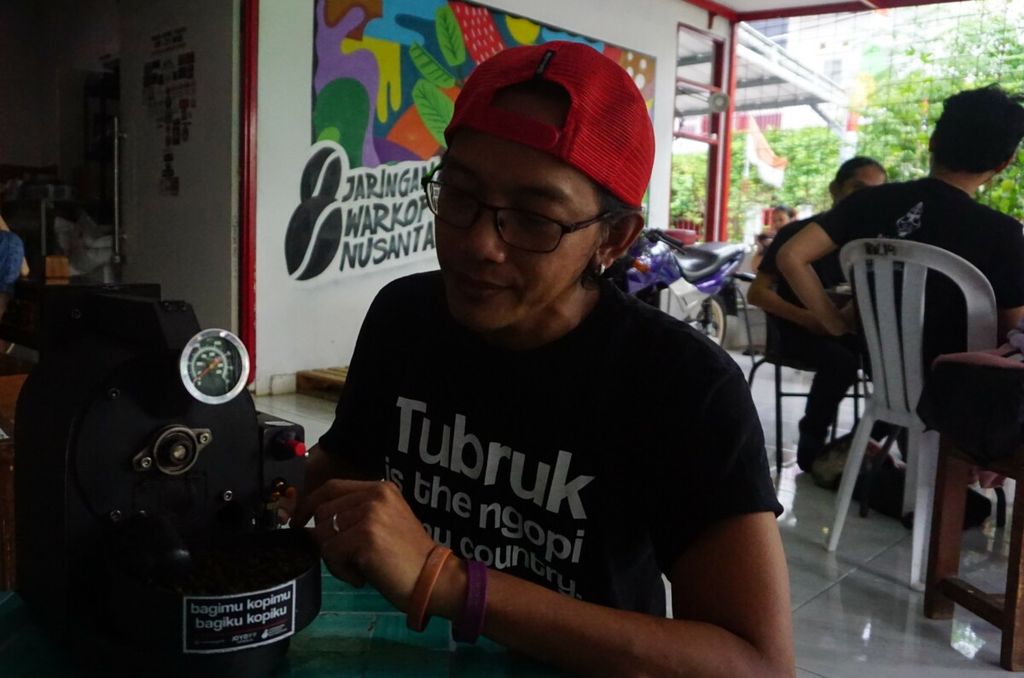 Ulil shares his knowledge for free. Those who visit can even taste the pure flavor of Joyo99 coffee without paying for it.
"Please have as much coffee as you like. If you want to take it home, you can buy it," said Ulil, who runs the shop with his wife, Ike Hamdan.
The coffee they offer is Indonesian coffee, grown in areas from Sumatra to Papua. In this way, Uli promotes local coffee varieties.
"Indonesian coffee is the best of the best. It is recognized in the world. This is what I always emphasize," he said.
Aside from promoting the coffee of Nusantara (archipelago), he also teaches urban youth about traditional coffee services. One of these is kopi tubruk (coarse coffee grounds brewed with rock sugar).
Indonesian coffee is the best of the best. It is recognized in the world. This is what I always emphasize
He expressed his concern that many young people were competing in training to become baristas and in serving modern, machine-brewed coffee. They also sought various certifications and various competitions in modern coffee service so they could become "barista warriors". Unfortunately, many youths were reluctant to explore Nusantara coffee and learn about local traditions that have been passed down from generation to generation.
"I want to change that perspective. Young people can truly explore Nusantara coffee without having to become a barista warrior or obtain certification. Therefore, I avoid the term 'barista'. For me, the term 'coffeemaker' is enough," he said.
Also read: Making Farming 'Go Viral'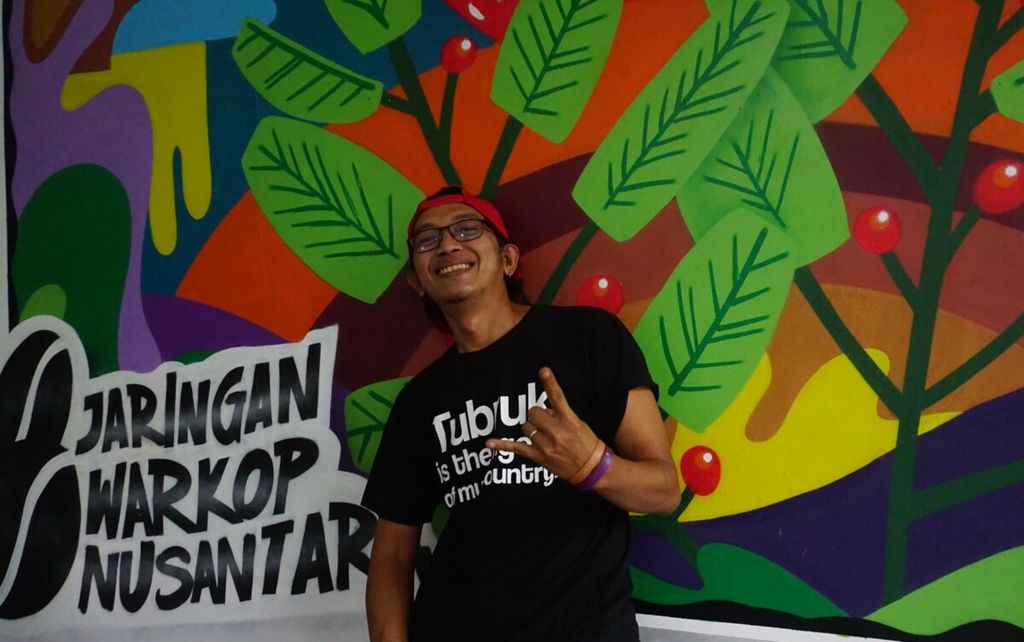 Ulil stressed that he was not against modernization, nor was he anti-foreign. He simply wanted to invite coffee lovers to learn about the rich and long-standing coffee culture of Indonesia.
"In the end, this is an entryway to appreciating diversity, including the diverse services and flavors of coffee," he said.
He expresses his philosophy in the mottos printed on the JWN T-shirts and souvenirs, such as "Bagimu Kopimu, Bagiku Kopiku" (your coffee is yours, my coffee is mine) and "Tubruk is The Ngopi of My Country", which refers to the Indonesian term ngopi that literally means "to drink coffee", but the term has a much broader cultural meaning.
What is important for Ulil is not coffee per se, but the many ways of enjoying coffee. Coffee beans were just a type of seed, but ngopi was a sociocultural tradition. Ngopi enabled people to interact, to receive each other openly, and to converse freely about anything under the sun. Javanese people refer to this as serawung.
Also read: A Factory of "Hydroganic" Dreams
"This [culture] is what is starting to disappear. Nowadays, many people go to coffee shops, sip expensive coffee, then busy themselves with their gadgets or chat only within their own groups," said Ulil.
In 2017, Ulil tried a simple experiment by setting up a warkop at the Nuri Bintaro housing complex, only a stone\'s throw from his house. He invited the residents of the complex to have coffee together, interact, converse, and play music.
"All night long, around 50 people enjoyed coffee together. The residents who used to live [as individual units] started hanging out together," said Ulil, who has had to temporarily close his warkop during the Covid-19 restrictions.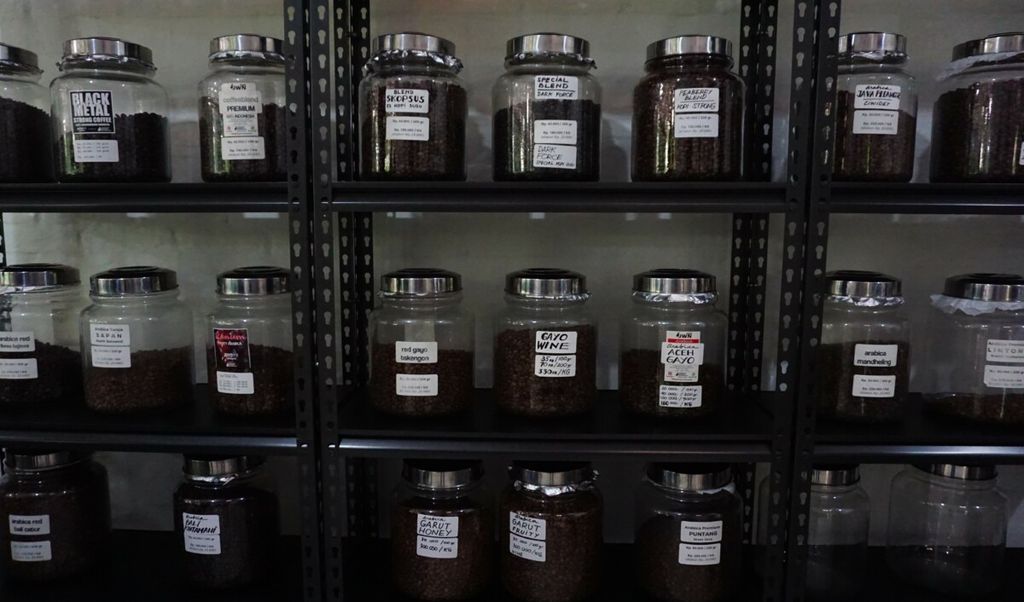 Everyone can talk at leisure while enjoying coffee, not argue.
The JWN members later adopted the residential warkop concept in several different areas, including South Tangerang, Jakarta, Pati, Tegal and Makassar. Ulil welcomes everyone to adopt his residential warkop concept.
"You don\'t need to pay [a fee], you don\'t need to buy coffee from me. If they want, I can give them input on how to [finance] their warkop business. The important thing is that they charge only Rp 5,000 per cup of coffee," he said.
His hope is that residential warkop will continue to spread and grow as a public space for discussion and dialogue among residents from different backgrounds.
"Everyone can talk at leisure while enjoying coffee, not argue," he said.
Healthy relations
Ulil was raised in a family with a strong ngopi tradition. As a child, he drank coffee with his grandfather and other relatives. His coffee "habit" continued while he worked at several different companies in Jakarta. He used to hop from one warkop to another.
In 2016, he was laid off. With the large severance pay he received, he tried to start different businesses, from toy stores to bird shops. However, none worked out. In the end, his businesses all failed.
One day, Ulil wanted to have a cup of freshly brewed coffee. But he was broke at the time, and he racked his mind with the thought that a cup of coffee at a modern cafe could cost him Rp 25,000. So he instead went to a warkop, where he was presented with a sachet of prepackaged instant coffee. This certainly did not satisfy Ulil, who is a coffee purist.
Also read : Yacinto Dacrus, Teacher's Devotion in Border Zone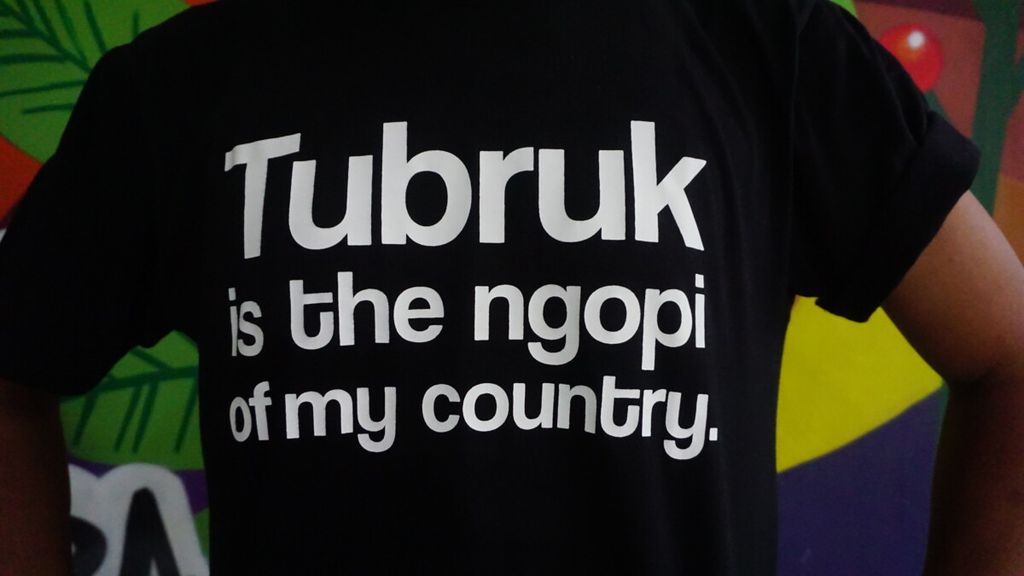 He then reached out to several friends who were baristas or graders, also called "cuppers", and got a free supply of coffee from them.
"I gave the coffee to a small shop near my house where I used to hang out. I asked the shop owner to sell the coffee at a low price so that more people could drink it," he said.
The coffee sold out in two days. Ulil got another supply of coffee and gave it to the shop, although he wasn't making a profit. Over time, many people started ordering the coffee. Finally, he entered the coffee business as a coffee trader in 2016, just as the coffee trend was growing in Indonesia. The trade in buying and selling coffee beans was also growing, but only imported coffee beans were being traded. It was in 2016 that Ulil founded the JWN as a fluid, unstructured community to help promote Nusantara coffee and warkop.
That same year, Ulil watched as politics started causing divisions in society along partisan lines. People would get embroiled in heated arguments simply over some small difference in their political views.
"Maybe they didn\'t have enough of an opportunity to enjoy coffee together. I want our people to frequently have coffee together at the coffee shop, so they can welcome each other and talk," he said.
Ulil said that the JWN did not make him financially rich, but he gained wealth through the many friends he made who helped sustain him. He also gained wealth in the joy he felt on seeing people of different backgrounds and view as they conversed and ngopi at his warkop.
"For me, contentment is simple. The important thing is to hang out in good cheer, enjoy good coffee, sleep well, and live healthy," he said.
Setya Yudha Indraswara
Place/date of birth: Blitar, East Java, 25 Dec. 1977
Spouse: Ike Hamdan
Children: Langit Biru, Banyu Bening
Education: Bachelor in business administration, Brawijaya University (1996-2002)
Award: Winner in "Inspiring People", MLD Content Hunt 2017
IG: @warkopjoyo99